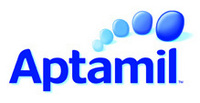 We wanted to bring real value to our audience and support them through their baby's developmental journey
(PRWeb UK) November 30, 2010
The popular baby site http://www.aptamil.co.uk was re-launched at the end of April this year, with new information, stage related articles and useful tools. As well as more pregnancy and breastfeeding information, brand new Toddler and weaning sections were introduced to support Aptamil's move into baby cereals and an interactive product carousel helps guide mums through the feeding stages. A complete redesign brings all the fresh content to the forefront.
Clare Tresidder, CRM manager for Aptamil said "The old site was very popular, but we listened to what our mums said and recognised that a lot of the vital nutritional content for mums was difficult to find. We wanted to bring real value to our audience and support them through their baby's developmental journey."
The previous site, which was launched in 2005, has successfully supported the brand's growth in recent years, especially through the introduction of the popular Aptamil baby club. Since the re-launch however, there has been a significant uplift in onsite metrics:

29% drop in bounce rate
21% increase in time-on-site
11% increase in pages per visit
10% uplift in natural search traffic
"The difference we have seen in the visitor statistics has been great" says Tresidder, "not only are we seeing more visitors to the site, these people are staying longer and interacting more." This engagement with the site can have a significant impact on brand choice and loyalty.
The offline supportive material within the baby club has also been refreshed, as well as a whole rebranded eCRM campaign which has seen click through rates double, delivering massive uplifts in mums' interactions back into the site – which was its main objective. With future plans to introduce video content, increased breastfeeding support and online coupons, the brand's aim for further growth this year looks achievable.
About Aptamil:
Aptamil has over 50 years of infant nutrition experience helping to earn their status as the number 1 IFFO brand for market value share. They are there to support mums and their babies in their journey together from pregnancy through to parenthood.
The experts at Aptamil include midwives, paediatric nurses, nutritionists and feeding advisors as well as pregnancy advisors and a health visitor. With over 60 years of medical practice experience, they offer healthcare professionals and consumers advice by phone, email and Live Chat.
###