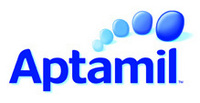 Hopefully, we can help even more mums become confident with pregnancy nutrition or baby and toddler feeding
(PRWeb UK) May 17, 2010
The use of pregnancy and baby websites has grown phenomenally within the last decade, as studies show mums are turning to the internet more and more for information related to their baby's development. Recent research¹ identified that 84% of UK mothers are online and that the average British mum uses the internet as her main source of information². Indeed Aptamil's own website is evidence of this, receiving over 60,000 visits per month.
The re-launch sees over 230 articles added to the site to help mums with all types of questions about
being pregnant and when faced with a new baby or toddler. Content on the homepage is tailored to mum's stage of pregnancy or the age of her baby based on their due date, and information updates automatically every time they revisit to reflect their baby's development.
Michaela Page, Brand Manager for Aptamil CRM said "Pregnancy and having a baby are exciting but worrying times. We recognised that mums need to be able to get the best information that's relevant for their stage, and easily."
Topics centre on nutrition in pregnancy and baby feeding but also include general pregnancy information and an entirely new section on weaning and toddlerhood. This reflects the brand's expertise in toddler nutrition with their Growing Up Milk³ and their recent move into baby cereals too. Articles include:

A healthy pregnancy diet
Vitamins and supplements in pregnancy
Labour and birth
Breastfeeding; and
Baby feeding problems and allergies.
A survey in 2009¹ found that mums lack confidence in child nutrition and health, but Aptamil aims to inform mums more than ever before. The baby feeding brand's existing users already see that expertise. In a survey, nearly 80% of members agreed that Aptamil are the experts in baby and toddler nutrition, something which is demonstrated in all of their communications with mums signed up to the Aptamil baby club (abc).
The club itself has seen a refresh too, with new mailings being sent to postal subscribers (including coupons and samples) and email updates now containing even more pregnancy and post birth stage related information than ever.
In the future, Aptamil also have plans to launch digital coupons where members can download vouchers online and video "how-to-guides" about topics such as breastfeeding and weaning.
Some of the favourite features of the old website have also been retained. With Aptamil's members scoring their forums on average 8.2 out of 10 and research¹ showing 27% of mums visit social networking sites, the redesign has kept this important social interaction in place. The mums' forums has been extended to incorporate the move into toddlerhood by having a new specialist toddler forum section.
For those looking for more expert advice, the Aptamil Careline team made up of midwives, healthcare professionals, feeding advisors and mums are still on hand to give one-to-one advice. The Careline are ready to answer individual questions via email, over the phone or through the instant messaging Live Chat service. Mums can ask questions on pregnancy or any worries they may have about their babies or toddlers, safe in the knowledge that the answer will be both expert and caring.
Ruth Tayt, pregnancy advisor, nurse and ex-midwife on the Aptamil Careline said "It's fantastic being able
to support mums through Aptamil. Information online is one thing, but we find that having a personal touch and chatting through specific concerns, goes that little bit extra in terms of reassuring them."
Aptamil's new website is already proving to be a success: "The reaction has been great" says Michaela Page, "the existing members like the new format and we're seeing new mums interacting with the website and the Careline every day. Hopefully, we can help even more mums become confident with pregnancy nutrition or baby and toddler feeding in the future and really deliver on helping mums give their babies a healthy start in life."
Aptamil have been pioneering research into infant nutrition for over 50 years, and throughout this time they've gained a level of knowledge and expertise they're proud to share. With around 300 scientists worldwide who are dedicated to research in infant nutrition, as well as a team of nutritionists, midwives and other healthcare professionals here in the UK, they're committed to providing the best support for babies and toddlers.
For more information or to check out the new website, visit http://www.aptamil.co.uk, or get in touch with the Careline team for personal advice about your pregnancy or baby on 08457 623 628, Monday to Friday 8am to 8pm.
¹ Survey from Joshua G2 (mum-talk) 2009
² Marketing Week: Making your messages strike home 2009
³ Growing Up Milk is suitable for toddlers from 12 months to 3 years.
###