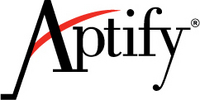 Applying Social Media to Association Business Practices
Washington, D.C. (Vocus) December 2, 2009
Aptify, a leading provider of Association Management Systems (AMS), held its annual Users Conference October 11-14, at the Washington Marriott in Washington, D.C. The conference theme, "One Community, Limitless Possibilities." proved accurate with representatives from nearly 40 percent of Aptify's client community in attendance. A large number were first-time attendees, from the rapidly growing list of new Aptify customers.
The Users Conference spread its high impact sessions over two and a half days where customers could choose to attend topics from either the Business or Technical track. Aptify users themselves created and presented 50% of the conference content, making the attendee experience highly relevant and spoke directly to their critical business needs. Customers also heard from a number of Aptify integration partners, including Concep, Higher Logic, High Road Solution and The Port, who demonstrated the significant incremental value of implementing Aptify in combination with their solutions.
Attendees responded to surveys with overwhelming positive feedback. Nadine Morrill, CGA SSF, Director of Finance says, "I have been to every conference Aptify hosts and this year's was the best one to-date. I found all of the material to be extremely useful and I was able to bring a lot of take-aways back to the office such as steps to best manage process change and tips on testing processes before running an upgrade."
Don Dea of Fusion Productions, a well-known industry expert on social media and networking delivered the conference key note address, "Applying Social Media to Association Business Practices". The audience learned how they could deliver substantial increases in member value through strategically integrating social media software with their Aptify AMS solution. In addition, Dea showed Aptify's customers how users could leverage this integration to drive increased ROI, while minimizing their required investment.
Prior to the conference, Aptify and Globalstrat, an International Strategy Development and Social Technology Consulting firm, surveyed the Aptify client community about their use of social media in their associations. The results showed that Aptify clients are well ahead of the curve in taking the first steps toward developing and implementing social media strategies.
Amith Nagarajan Aptify CEO says, "We are very proud of the accomplishments of the User Community in driving this event's agenda and executing much of its content. Overall attendance grew compared to 2008 and considering the challenges to many of our client's training budgets in 2009, we see this as a strong sign of commitment towards the User Community's success."
Also, attendees at the Users Conference were included in the second Annual User Community Meeting. The meeting is one of the most critical and compelling sessions at the conference, as this is where clients can elect to participate in one or more client-led committees, which have direct impact on the Aptify product, people and culture.
Aptify User Community President, Jim Cameron commented, "It is a pleasure to be a part of a user community where we have the ability to share so many great ideas with other Aptify users and to build even stronger relationships with Aptify, whose software we rely on to manage so many critical aspects of our operations."
About Aptify
Since 1993, Aptify has grown to be a leader in application software for enterprise-class associations, non-profits and other member-based organizations. Aptify's Association Management System (AMS) provides over 20 powerful applications including membership, meetings and events, committees and chapters, subscriptions and publications, education and certification, fundraising and grants, advertising, and many others. Aptify offers extensive out-of-the-box functionality, unparalleled flexibility and scalability, rapid implementation and an attractive Total Cost of Ownership (TCO).
Aptify's AMS is the most technologically advanced Association Management System available today. Aptify meets the needs of our rapidly growing customer community with a comprehensive suite of advanced CRM capabilities, process-driven applications, online commerce, integrated business intelligence and workflow, a comprehensive Rapid Application Development (RAD) platform, and world-class implementation, training and support services.
Aptify is headquartered in Washington, D.C. and maintains domestic offices in California, Chicago and Pennsylvania as well as international offices in Canada and India. Aptify is a Microsoft Gold Certified Partner with an active international partner presence in Australia, Canada, Czech Republic, Denmark, Finland, Hungary and the United Kingdom.
###