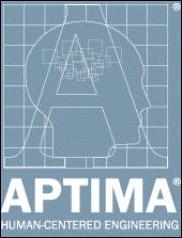 Our goal is to help put the power of the patient's personal health records in their own hands, giving them more control over their well-being. We believe we can design this tool to be as easy-to-use and intuitive as today's most widely-used handheld consumer devices.
Woburn, MA (Vocus) December 20, 2006
Aptima, Inc. , a leader in human-centered engineering, and the University of Massachusetts Medical School are collaborating on the design and testing of a computer system that will help patients living with chronic pain, such as migraines, back conditions and osteoarthritis, to better manage their health treatments and interactions with health care providers. Aptima and UMass Medical School are teaming on an 18-month $300,000 grant, as one of nine teams nationwide selected to participate in the Robert Wood Johnson Foundation (RWJF) program "HealthDesign: Rethinking the Power and Potential of Personal Health Records," a $4.4 million initiative.
Dr. Roger S. Luckmann, MD, MPH, Associate Professor of Family Medicine & Community Health at UMass Medical School, will lead the six-person team, which includes four employees of Aptima. The system will include a handheld computer that will allow those with chronic pain to have a way to manage their personal health activities and information, such as reminders of medication schedules, prompts and guidance for exercise regimens, and a way to track and monitor the impact of various therapies on their psychological well-being. The system will allow patients to combine that information with their electronic medical records from their various health care providers, tying together disparate medical information and providing a complete picture of their personal health records.
Aptima was recruited to the team given its expertise in interaction design and usability assessment. Aptima will design the user interface for the handheld device, drawing upon focus groups of patients living with chronic pain. They will then test the resulting prototype device with actual patients to validate its ultimate usefulness.
"Aptima is thrilled to be working on this innovative project," stated John Shaw, CEO of Aptima. "Our goal is to help put the power of the patient's personal health records in their own hands, giving them more control over their well-being. We believe we can design this tool to be as easy-to-use and intuitive as today's most widely-used handheld consumer devices."
Dr. Luckman of UMass Medical School added, "By allowing patients to keep information from all their health care providers--including practitioners of complementary medicine--in one place and to record important information about themselves, electronic patient health records promise to dramatically improve communication between patients and providers and among providers. I believe improved communication will translate into significant improvements in the quality of care," said Dr. Luckmann.
Teams were chosen from a pool of more than 165 applicants and each has been selected to receive an 18-month, $300,000 award. Primary funding for Project HealthDesign is provided by RWJF's Pioneer Portfolio, which supports innovative projects that may lead to breakthrough improvements in health and health care. RWJF is pleased to collaborate with The California HealthCare Foundation, which contributed an additional $900,000 to the initiative.
Over the first six months of Project Health Design, teams will participate in a structured process to design user-centered personal health applications that address specific health challenges faced by individuals and caregivers. In the subsequent 12-month phase, prototypes of these personal health tools will be tested with target populations.
Program activities will launch immediately with an initial design workshop involving all grantees, where they will further define the needs and preferences of the intended users of the PHR applications. For further details about UMass Medical School, visit http://www.umassmed.edu. More information about Project Health Design, including a listing of the other program grantees, is available at http://www.projecthealthdesign.org.
About Aptima
Aptima is a leader in the field of human-centered engineering, solving the problems of human performance in today's complex sociotechnical systems. Recognized by The Boston Business Journal as one of the 50 Fastest-Growing Private Companies in Massachusetts (2006), Aptima's unique approach couples social science principles with quantitative, computational methods. The company provides products and services focused on the design of organizations, user-centered technology, and training systems. Aptima is headquartered in Woburn, MA, with offices in Washington, DC. http://www.aptima.com.
About UMMS
The University of Massachusetts Medical School, a perennial top finisher in the annual U.S. News & World Report ranking of primary care medical schools, was founded to meet the health care needs of the citizens of the Commonwealth by providing residents an affordable, accessible, comprehensive and rewarding medical education of the highest quality. The school is committed to training in the full range of medical disciplines, with an emphasis on practice in the primary care specialties, in the public sector and in underserved areas of Massachusetts. UMMS comprises a medical school, graduate school of nursing, graduate school of biomedical sciences and an active research enterprise, and is a leader in health sciences education, research and public service.
About the Robert Wood Johnson Foundation
The Robert Wood Johnson Foundation focuses on the pressing health and health care issues facing our country. As the nation's largest philanthropy devoted exclusively to improving the health and health care of all Americans, the Foundation works with a diverse group of organizations and individuals to identify solutions and achieve comprehensive, meaningful and timely change. For more than 30 years, the Foundation has brought experience, commitment, and a rigorous, balanced approach to the problems that affect the health and health care of those it serves. By helping Americans lead healthier lives and get the care they need, the Foundation expects to make a difference in your lifetime.
About the California HealthCare Foundation
The California HealthCare Foundation, based in Oakland, is an independent philanthropy committed to improving the delivery and financing of health care in California.
Contacts:
Debra McNeely
Aptima, Inc.
781.496.2423
Joel Greenberg
DCPR LLC
202.363.1065 | 202-669-3639 cell
# # #