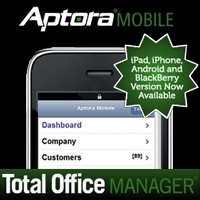 "The trick was creating a fast program that understands what device it is running on and adjusts itself accordingly," says James Leichter, president. "Aptora Mobile is incredibly fast, because the data is processed on the server instead of the device."
Lenexa, KS (PRWEB) November 10, 2010
Aptora is dedicated to utilizing the latest technology by adding new features to their service management software on desktop computers and mobile devices. Connecting to customer-specific data while in the field is becoming more important for improved technician efficiency, and Aptora is meeting this requirement head-on with their latest software release.
The mobile field service management software uses newly developed technology from 1AirData LLC that is licensed to Aptora Corporation. The secret to this product is the server-side software. It connects the company's accounting files to a long list of mobile devices and smart phones. Each connection is customized to precisely match the capabilities and security of each device. For instance, when Aptora Mobile connects to an iPad, the software adjusts itself to take advantage of the iPad's exceptional screen size and performance.
Pricing starts at just $1999.00 for five users and there is only a small annual fee. For more information and a free demo, go to http://www.aptora.com/mobile/.
About Aptora
Aptora specializes in service industry software, perhaps best known for its flagship products: Flat Rate Plus® (flat rate pricing software), and Total Office Manager (construction accounting software & field service software)®. Since 1995, Aptora has been a leader in flat rate pricing software and pricing books for service businesses. Total Office Manager brings together accounting, CRM, dispatching, scheduling, payroll, inventory control and more into a single, easy to use program. It allows contractors and service managers to make better management decisions by knowing exactly where they make and lose money in their businesses.
###