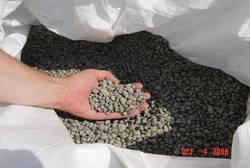 Toledo, Ohio (PRWEB) October 9, 2007
AquaBlok, Ltd., a manufacturer of innovative clay-based composite materials, is proud to announce the introduction of a new family of pond sealant materials that benefit from the company's patented delivery system for bentonite sealant materials.
AquaBlok® Pond Seal Products utilize the company's well-established technology for delivering bentonite sealant material though a water column to seal a range of leaking water bodies. The unique material design incorporates an aggregate core coated with bentonite to effectively place maintain a sealant layer.
As Pond Seal coated particles hydrate and swell, they coalesce to form a flexible but cohesive layer or liner on the bottom of a pond, reservoir, canal, levee, or dam to block off potential leakage pathways.
Problem Statement
Many ponds, canals, reservoirs or waterways are constructed in porous or other permeable soils that can sometimes be difficult to seal with conventional pond construction techniques. In addition, sometimes compacted soil liners can fail due to freeze/thaw or other natural ground movement. Once it is determined that a water body is leaking, few options exist to create an effectively seal without first draining all water. In more mature ponds or reservoirs, this is often not a desirable option since complete destruction of the existing habitat will take place. Pure bentonite powder or granules are often promoted as a means to seal a pond by simply pouring the material though the water. However, most pond management professionals understand that this method is generally ineffective since only a fraction of the material placed actually makes it to the bottom and what little does is not adequately compacted in a manner that makes the bentonite seal a more effective seepage barrier.
What Makes AquaBlok Pond Seal Better
Two important advantages are provided by AquaBlok's Pond Seal product. First, the dense aggregate core of the Pond Seal particle (greater mass) effectively delivers the bentonite though the water to bottom, where all of the sealant material can be effectively utilized. Second, the aggregate provides "self-compaction" (resistance for the hydrating and expanding bentonite), creating a more stable and erosion resistant layer that will remain in place for many years. In addition, Pond Seal can be re-applied in the event that additional leaks are discovered at a future point.
Other important features of AquaBlok Pond Seal include:

Will Dry Out and Rehydrate an Infinite Number of Times if Water Levels Change
Remains Pliable when Hydrated - Will not "liquefy" during Seismic Events
Ability to "Re-Heal" if Punctured or Cut
Available Products and Pricing:
Pond Seal is available in 50lb. paper bags or plastic pails and can be purchased in pallet quantities. For larger pond or reservoir applications, it can also be supplied in FIBC bulk bags (super sacks) of approximately 2,500lb. in size.
Pricing for standard bentonite Pond Seal products is similar to equivalent bentonite costs. Specific pricing is available upon request and is dependent on quantity purchased.
About AquaBlok, Ltd.:
AquaBlok, Ltd. is a manufacturer of composite (clay-based) materials utilizing its patented coating and amendment approach. The company has a long history in the environmental industry and a range of products utilized in sediment remediation technologies. AquaBlok utilizes its delivery system in a range of other products including, pond and industrial impoundment sealing, as seep collars on piping, to construct cut-off walls in porous soil conditions, flood control applications (i.e. levee and dam protection), and to deliver organoclay-based materials. In addition, AquaBlok is a licensee of Halliburton's Bariod Division for the Baraclear® algae treatment product.
###