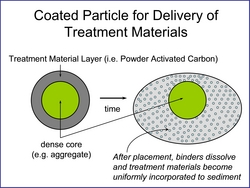 Toledo, Ohio (PRWEB) March 25, 2009
AquaBlok, Ltd., a manufacturer of innovative composite particle materials, and recognized as providers of a low-permeability thin cap sequestering technology, has introduced an expanded range of products that delivers proven treatment materials to contaminated sediment in an efficient and cost-effective manner.
The ability to uniformly and cost effectively deliver treatment materials to contaminated sediments provides an important alternative to the industry's historic "default" solution of dredging or excavation of sediments for ex-situ treatment/upland disposal.
A major challenge in using known treatment materials in an aquatic/sediment environment has been the ability to place effective material (typically in powder form) in a uniform but low cost manner through a water column - particularly when the treatment material has a low specific gravity or density. This challenge can be addressed by using the AquaBlok composite particle system to place a uniform coating of a desired treatment material (i.e. powdered activated carbon) on an aggregate core - for bulk delivery through the water.
The AquaBlok composite particle system does this and also provides the following primary benefits:

Uniformity of Application - Distribution of Treatment Material within a Layer
Greater Effectiveness Due to Higher Particle Surface Area
Place Quickly - Just Like Aggregate or Sand, Through a Standing Water Column
Range of Permeability - Match to Native Sediment, No Hydrological Impact
Place Below Sand or Alternative Capping Material - For Chemical Isolation Layer
Function as Treatment Gate with Low Permeability Cap - i.e. Funnel & Gate
Addresses Upwelling and/or Gas Transport - With or Without Low Permeability Layer
Amended AquaBlok materials, known as AquaBlok+, will address a wide range of common contaminant issues as well as a range of very typical remediation site characteristics. The materials can be configured in a wide range of potential treatment designs, such as the use of reactive gates in a 'funnel & gate' design to treat upwelling of groundwater or gas venting.
AquaBlok is currently able to provide a composite particle with the following range of Treatment Materials:
Activated Carbon
EHC-MTM
Zero Valent Iron
Organoclays (various manufacturers)
Sulphur
Shredded Tire
Zeolites
Aluminum Sulfate
Below is a partial listing of both types of sites and contaminants, as well as typical uses where the material can be applied.
Types of Sites/Contaminants:
Manufactured Gas Plants (MGP) - PAH
Wood Treatment Facilities (Creosote)
Mercury / Arsenic / Metals
Chlorinated - PCB's, VOC
DDT / Ammonia / Phosphorus
About AquaBlok, Ltd.
AquaBlok, Ltd. is a manufacturer of composite (clay-based) materials utilizing its patented coating and amendment approach. The company has a long history in the environmental industry and a range of products utilized in sediment remediation technologies. AquaBlok utilizes its delivery system in a range of other products including, pond and industrial impoundment sealing, as anti-seep collars or trench dams around utility piping, to construct cut-off walls in porous soil conditions, flood control applications (i.e. levee and dam protection), and to deliver organoclay-based materials. In addition, AquaBlok partners with the Adventus Group to deliver a range of their proprietary treatment materials and is a licensee of Halliburton's Bariod Division for the Baraclear® algae treatment product.
EHC-MTM - Is a trademark of the Adventus Group
# # #