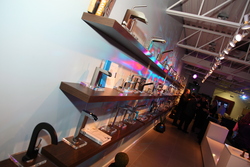 Concord, ON (PRWEB) March 19, 2010
March 2nd 2010 – Grand opening. Manufacturer of high-end bath and kitchen plumbing fixtures, Aquabrass officially opened the doors to its new corporate showroom (8899 Jane Street, Vaughan, Ontario), and celebrated the beginning of a new adventure filled with great expectations with a selection of its valued customers.
Invitees discovered a true Ali Baba's treasure cave for bath and kitchen professionals: One entire wall of functional faucets and shower components, three working shower systems, a fully operational kitchen with state of the art professional faucets and appliances, shelving showcasing Aquabrass' exquisite faucet collections and custom finishes, a complete set-up of an "Aquabrass bathroom"; the whole lot in one of the most inspirational and imaginative settings. "It perfectly displays merchandise with an endless selection of products and finishes", declares Shelly Chana from Roman Bath Centre.
Aquabrass will use these surroundings for diverse purposes: Welcoming professionals and showing them the creative solutions its products and systems have to offer in order to satisfy the needs of their clients. Training sessions and private seminars will also be held for all Aquabrass Ontario based customers, with an accent put on understanding the technicality and efficiency of Aquabrass' range of products, and revealing some original product combinations. "A unique approach in our Industry", says Pierre Moreau from Tubs, as he describes the showroom "as an extremely useful tool to attract and maintain high end designers".
Already there is a line up for the first seminars. "I can't wait to get my team up here … let them be first on your list for training", emails Leo Myers from Taps Bath Centre, the morning following the event.
Vice-President of Aquabrass, Tony Masecchia had a clear vision when putting together the floor plan of the new Toronto corporate showroom: "A contemporary, intimate environment to welcome our customers, designers, architects and contractors, and introduce them to the core of our company: Aquabrass, the essence of your lifestyle". Indeed, Aquabrass is not just a faucet company; its collections are cleverly put together to inspire many lifestyles, from retro chic or elegant sophistication to pure minimalism, and therefore accommodate a variety of spaces, which provide homeowners with whatever they desire to make their home unique.
Don Bottrell from Taps Bath Centre perfectly summarizes the forthcoming success of the Aquabrass new corporate showroom when he believes it to be "a first of its kind corporate showroom available to use at our convenience to promote and close sales on the features of an ever changing forward thinking company".
Long live the Aquabrass Toronto corporate showroom!
# # #