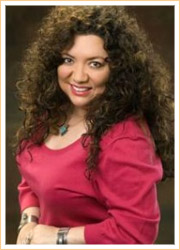 I feel so healthy after having my Aqua Lipo Liposuction procedure. I have raved about the procedure both on and off the air.
Brentwood, Tennessee (PRWEB) April 30, 2013
NuBody Concepts in Memphis and Brentwood, Tennessee announce outstanding and life changing results for a local radio personality Anna Marie of Mix 92.9FM.
Cosmetic surgeon Dr. Trey Emerson performed the Aqua Lipo procedure on Anna Marie in NuBody Concepts' state of the art plastic surgery and cosmetic treatment center in Brentwood, Tennessee.
"I am pleased with the results from the Aqua Lipo procedure I performed on Anna. So many patients come to us with a strong desire to improve their body to have a slimmer look and rejuvenated skin. It always excites us to talk with patients after their cosmetic procedure to see how their improved look changes the way they feel about their body and have a more positive image and mind-set" says Dr. Emerson, cosmetic doctor at NuBody Concepts.
"Improving one's cosmetic appearance can be very influential for people's attitude and mental well-being. As a cosmetic doctor in Tennessee I find so many men and women have a true zest for life when they are satisfied with their appearance. They tend to be more driven in their careers and are happier in their personal life. These are just a couple of reasons why the Aqua Lipo Liposuction process has been so successful," adds Emerson.
Emerson states "The Aqua Lipo technique uses a stream of water to gently flush unwanted fat away. Patients find less bruising, swelling and downtime when compared to a traditional liposuction procedure. The Aqua Lipo Liposuction process uses water-jet technology to essentially dislodge and remove fat cells from the body. With the power of the water jet the fat cells are detached from the surrounding tissues. Using water results in less trauma to the skin, muscles, nerves and blood vessels so therefore less bruising occurs."
Anna Marie states "The staff at NuBody Concepts is wonderful. They make me feel comfortable and welcome every time I visit. I look forward to more positive changes in my appearance, with their help, and Dr. Emerson's magic hands."
The cosmetic doctors at NuBody Concepts of Brentwood and Memphis, Tennessee offer a variety of body contouring procedures that come with minimal downtime, low medical risk, less bruising and swelling and can be performed under local anesthesia.
Anna Marie adds "I feel so healthy after having my Aqua Lipo Liposuction procedure. I have raved about the procedure on and off the air. I would definitely recommend Dr. Emerson and the staff at NuBody Concepts for the Aqua Lipo Liposuction procedure as it has truly changed my life. I know have a waistline! I'm really pleased with the results."
NuBody Concepts offers a variety of body contouring procedures in both their Memphis and Brentwood, Tennessee cosmetic surgery centers including: Aqualipo Liposuction, Smartlipo, Natural Fill for Buttocks, Wavesculpt for Body Sculpting, Natural Fill for Hand Rejuvenation, Botox, DOT Therapy, NaturalFill for the face, NaturalFill for the breast and NeoGraft hair transplants.
For more information on body contouring procedures or to schedule a consultation please visit online at http://www.nubodyconcepts.com or call NuBody Concepts at either of their Tennessee locations at 615-866-2240 (Brentwood, TN office) or 901-969-3700 (Memphis, TN office.)