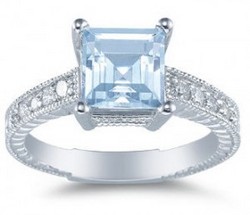 We are not 'cheap' jewelers. We offer value
Los Angeles, CA (Vocus) March 19, 2010
The birthstone shared by dreamy Pisces and fiery Aries alike, Aquamarine is an irresistible blue gem that exudes a spirited, playful vibe.
Apples of Gold Jewelry, leading online jeweler, announces their collection of genuine aquamarine rings set with diamonds in 14k white gold.
Aquamarine is also referred to as the "gem of the sea", and stone ranges from a pale sky blue to the deep blue hues of the sea.
Aquamarine comes from the beryl family of gemstones, and measures an 8 out of 10 on the Mohs Scale of Hardness, a universal hardness scale for gemstones. With a score of 8, Aquamarine is a fairly hard gemstone, which makes it versatile and easy-to-wear.
What sets Apples of Gold Jewelry apart is their value-based pricing, focus on unique styles, and genuine materials. With more than 25 years of jewelry experience by CEO Afshin Yaghtin, and a decade of online service, Apples of Gold is quickly becoming the leader in value-based mid-range jewelry. "We are not 'cheap' jewelers. We offer value," notes Yaghtin. "We never sacrifice the selection or quality, but simply take a smaller mark-up than traditional jewelers".
Apples of Gold Jewelry strives to provide its customers with quality jewelry at prices that fit into most budgets. In fact, most of the jewelry items offered by Apples of Gold Jewelry are priced 50% lower than at other jewelry retailers. With over 3,500 jewelry items online, many are taking notice.
You can learn more about Apples of Gold Jewelry on their website at http://www.applesofgold.com or by calling them Toll Free at 877-777-5572.
###