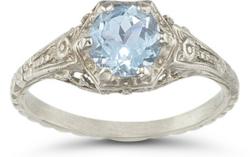 Los Angeles, CA (PRWEB) November 05, 2011
Classic, elegant designs never go out of style—the popularity of flea market jewelry shopping has proved the widespread appeal of vintage fashion and antique looks. But finding that perfect antique ring in a sea of dusty baubles and trinkets is daunting to many. The solution? Take the classic, time-honored designs and create new jewelry, such as Apples of Gold's antique-style aquamarine rings.
Apples of Gold jewelry knows the popularity of its vintage-themed jewelry and is excited to add the Antique-Style Aquamarine Wedding Set to its lineup of superior wedding jewelry. Given the popularity of this set when sold with the traditional colorless diamond, Apples of Gold expects similar success with the aquamarine stone.
Aquamarine is a semi-precious stone that is favored among women for its icy blue shade, eye-catching sparkle, and unique color. It's a perfect choice for the woman who is looking for something in between the deep blue of a sapphire and the clear, colorless sparkle of a traditional diamond.
A variety of vintage and antique-style rings make up the Apples of Gold collection of aquamarine engagement rings and wedding sets. Floral and filigree patterns, and hexagonal or octagonal shapes are the characteristics that make these rings appear that they've come out of an earlier era. But unlike buying an actual antique, women get the quality of stones and settings that comes with buying a new ring—but with all the charm and elegance of a vintage design.
As couples seek wedding jewelry that is both stunning and affordable, colored gems have increased in popularity. While no less attractive, gemstones such as the aquamarine are a great value. They also allow brides to express their personal style and preference in choosing the color of their gemstone.
Apples of Gold's line of vintage and antique jewelry combines the best of old and new at a price that makes the pieces as affordable and appealing as they are beautiful. The 2011 fall and winter line of colored gemstones and antique designs reflects Apples of Gold's commitment to offering stunning jewelry at affordable prices. Founded in 1999, the company set out to develop a jewelry company that would not only do well, but would do good. Ethical, value-based pricing practices were the foundation. The Apples of Gold commitment to quality in their products and the highest standards for customer service and consumer satisfaction come naturally. In the fine jewelry industry, Apples of Gold is a diamond (or colored gemstone) in the rough.
Contact:
Apples of Gold
Afshin Yaghtin
606 South Hill Street, Suite 717 Los Angeles, Ca 90014
Email: marketing(at)applesofgold(dot)com
http://www.applesofgold.com
###