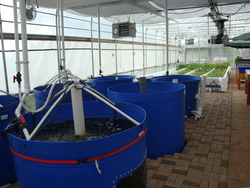 Montello, WI (Vocus) June 17, 2010
Nelson and Pade, Inc. a company specializing in aquaponic food production systems in Montello, WI, recently shipped a Living Food BankTM to the Northwest Haiti Christian Mission (NWHCM). The Living Food BankTM uses aquaponic technology, a tropical greenhouse and a stand-alone energy system to raise fish and vegetables in a sustainable, efficient and continuous way.
NWHCM has chosen aquaponics to help provide food for the mission and the many people the mission feeds every day. In aquaponics, you grow plants and fish together in one integrated, soilless system. The fish waste provides fertilizer for the plants and the plants provide a natural filter for the water the fish live in. Aquaponics is a sustainable ecosystem in which both plants and fish can thrive.
Northwest Haiti Christian Mission is a holistic ministry and development organization committed to the people of the Northwest region of Haiti. They serve thousands of people across Northwest Haiti regardless of their age, gender, or religion and they do so through a diverse collection of programs that include – among others – primary schools, feeding projects, orphanages, medical clinics, a Bible college, and agricultural development. NWHCM is the largest employer in the zone and one of the largest ministries in Haiti.
NWHCM, recognizes that having a Living Food BankTM system that produces fresh fish and plants, continuously providing protein and vegetables, will help to nourish and empower Haitian people.
The aquaponic system is designed to grow tilapia, a fresh water fish, and a variety of vegetables. In addition, field crops such as corn and potatoes will be grown in the soil using excess, nutrient-rich, aquaculture water. This is the first phase of a large-scale project. The Phase One system is intended to demonstrate the technology and allow NWHCM staff and volunteers to get familiar with the daily operation of an aquaponic system. The aquaponic system will be housed in a tropical greenhouse for crop protection. A sitting and study area and a small research area for various crop trials are included in the design. The energy system will consist of a battery bank, solar panels and a back-up generator. The Phase One greenhouse will cover approximately 4144 sq. ft. and is capable of producing 3,500 lbs of fish and 27,500 heads of lettuce annually. Other vegetables crops, such and beans, peas and tomatoes can be grown in the system as well. Phase Two will be on a much larger scale and will produce substantial amounts of fresh food.
John Pade and Rebecca Nelson, Nelson and Pade, Inc, will be travelling to Haiti to assist with the construction of the greenhouse, installation of the aquaponic system and training of the individuals involved in the operation of the Living Food BankTM. Rebecca Nelson comments, "We are very happy to be working with the Northwest Haiti Christian Mission on this worthwhile effort. The people of Haiti are fortunate to have such compassionate and caring people involved, people who not only want to provide food, but who want to rebuild agriculture in Haiti using technology and innovation."
Many churches and organizations donate funds to help feed people in Haiti. But, donors are becoming more business saavy and are excited about the idea of investing in a food producing system rather than continuing to donate food that needs to be imported into the country. During and after the devastating earthquake in Haiti in January, the shipping ports were closed and air traffic was very limited. Containers of food that had been donated sat in ports outside of Haiti. With a Living Food BankTM system, the fresh fish and vegetables continue to grow, without dependence on shipping or local power sources.
The agricultural sector of Haiti needs rebuilding so the country, as a whole, can be less dependent on outside food sources. The efforts by NWHCM to grow fresh food on their campus will contribute to this important goal.
The construction of the greenhouse and assembly of the aquaponic system will take several months and will be conducted by volunteers and NWHCM staff, under the guidance of Nelson and Pade.
For more information on Northwest Haiti Christian Mission, visit http://www.nwhcm.org. For more information on aquaponics and Nelson and Pade, Inc, visit http://www.aquaponics.com.
###