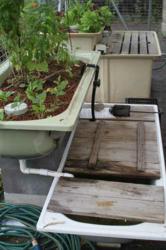 The best sustainable design transforms waste into exciting new products.
Boulder, CO (PRWEB) May 24, 2011
What do discarded bathtubs, spent IBC Tote shipping containers, and recycled plastic storage barrels have in common? They can all be easily converted into inexpensive backyard aquaponic food growing systems using kits recently launched by The Aquaponic Source, Inc.
Aquaponics is a unique, synergistic growing technique in which fish and plants are grown together. The fish waste feeds the plants using organic hydroponic techniques. The plants, in turn, clean and filter the water that returns to the fish environment. Aquaponic gardening needs less than 10% of the water used by traditional soil based growing methods and sustainably produces food that is 100% organic, with no worries about pesticides or mercury. The system waters and fertilizes itself, is free of weeds, and can be set up at waist height, thereby eliminating most of the mundane chores and back pain associated with conventional gardening.
The Aquaponic Source has introduced both a Bathtub Aquaponics kit and an IBC Tote Aquaponics kit. The Bathtub Aquaponics kit creates a gardening system out of two bathtubs – one becomes a fish tank and the other a grow bed. The IBC Tote Kit uses three shipping totes and creates a large system that can grow up to 50 edible fish to plate-size and gives you 40 sq. ft. of plant growing area. Both kits are based on the work of Australian aquaponics master, Murray Hallam.
Making large items headed for the trash heap into fish and vegetable producing systems is not only a unique way to produce food, but also helps us reduce our overall burden on the planet. The National Association of Home Builders (NAHB) estimates that in the U.S., the waste coming from construction and demolition debris accounts for 20% of all landfill waste. What if some portion of this could be used to grow food? "The best sustainable design transforms waste into exciting new products." states Sylvia Bernstein, President of The Aquaponic Source. "With these systems you are doing that twice. First, by reusing discarded tubs and containers and second by naturally converting fish waste into the organic fertilizer needed to grow spectacular plants, all through aquaponics."
The Aquaponic Source is North America's leading supplier of home aquaponic systems, components, supplies, and educational material. They also run the Aquaponic Gardening Community, which is the largest online aquaponic community outside of Australia. They have been in business since 2009 and are based in Boulder, CO.
# # #