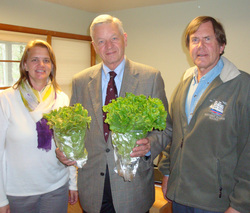 Montello, WI (Vocus) April 9, 2010
On April 6, Congressman Tom Petri took time away from his busy schedule to learn about aquaponics from industry experts, Rebecca Nelson and John Pade, owners of Nelson and Pade, Inc. , a Montello company specializing in aquaponic technology, systems and supplies. Nelson and Pade speak and consult in Wisconsin, throughout the US and Internationally.
Aquaponics involves raising fish and plants in an integrated, soilless system. The fish waste provides the fertilizer for plant growth and the plants, in removing the nutrients, help to purify the water for the fish. Aquaponics is a sustainable, natural method of growing food.
The meeting took place at Nelson and Pade, Inc.'s new office in Montello, WI. Nelson and Pade explained the technology and the potential for aquaponics to become a major contributor to fresh, safe food production. Congressman Petri commented that aquaponics was very interesting.
Nelson and Pade, Inc. recently expanded its operations, purchasing a 12-acre property in Montello with office space and 8,000 square feet of shop and warehouse space for system assembly. By mid 2010, aquaponic greenhouses will be open for tours and training at this location.
Congressman Petri was interested in the fact that Nelson and Pade, Inc's aquaponic systems are nearly 100% made in the USA and are designed based on science and proven concepts. Nelson and Pade, Inc. recently designed, built and shipped aquaponic systems to clients in Austria, The Bahamas, Malaysia, The Virgin Islands, Ohio and Florida. They are currently in production on a large scale Living Food BankTM aquaponic system that will be used to feed people in Haiti at the NW Haiti Christian Mission.
John Pade comments, "Aquaponics can help provide food security to residents of Wisconsin and around the world. To enhance the development of the technology, we need to work with farmers, educators and government. Congressman Petri's interest in this technology is very encouraging and we are very happy that he requested a meeting with us."
To learn more about Congressman Tom Petri, please visit http://petri.house.gov/
To learn more about aquaponics and Nelson and Pade, Inc.'s products and services, please visit http://www.aquaponics.com
Photo caption: Rebecca Nelson, Congressman Tom Petri, John Pade (left to right) in Montello, WI at Nelson and Pade, Inc.'s office. Congressman Petri is holding lettuce grown in aquaponics in Nelson and Pade, Inc.'s research and demonstration greenhouse.
# # #