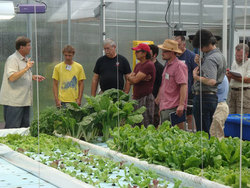 Montello, WI (Vocus) August 12, 2010
Dr. James Rakocy, Director, Agriculture Experiment Station, University of the Virgin Islands will be co-teaching the Aquaponics and Controlled Environment Workshop offered by Nelson and Pade, Inc, Montello, WI, Sept 29 – Oct 2, 2010. During his 30-year career as a research scientist and administrator, Dr. Rakocy has earned worldwide respect for his research on aquaponics and for developing a commercially viable aquaponic system.
Rebecca Nelson and John Pade, owners of Nelson and Pade, Inc., are known internationally for their experience, knowledge and real-world expertise in aquaponics and controlled environment agriculture. Together, Nelson, Pade and Rakocy will teach this comprehensive, fun and exciting hands-on workshop, sharing their 60+ years combined experience in aquaponics with workshop attendees. As a team, they will be offering instruction to help new and existing growers increase their knowledge and gain hands-on experience in an energy-efficient, aquaponic greenhouse. The aquaponic systems in the greenhouse are designed to be highly productive, maximizing the use of greenhouse space.
Additional workshop speakers include Rick Decker of AquaMax Feeds and Ron Johnson, WI Aquaculture Extension. Rick will speak about fish feeds, feed formulations and feeding. Ron will talk about fish farming and regulations.
Aquaponics is the combination of aquaculture (fish farming) and hydroponics (soilless plant culture). In aquaponics, you grow fish and vegetables together in one integrated, soilless system. The fish waste provides nutrients for the plants and the plants provide a natural filter for the water the fish live in. Aquaponics produces safe, fresh, organic fish and vegetables. When aquaponics is combined with a controlled environment greenhouse, premium quality crops can be grown on a year-round basis, anywhere in the world. Aquaponics can be used to sustainably raise fresh fish and vegetables for a family, to feed a village or to generate a profit in a commercial farming venture.
The workshop takes place in Montello, WI. The days are full, with classroom sessions each morning and greenhouse sessions in the afternoon. Classroom sessions will include: Welcome and Introduction, Aquaponics Overview, Aquaponic Methods, Applications of Aquaponics, Aquaponics Around the World, System Designs and Components, Development of the UVI Aquaponic System, Selecting the Right System for Your Application, Greenhouse Considerations, Environmental Control Requirements, Environmental Control Equipment, Advanced Environmental Control, Advanced Growing Methods, Water Quality Dynamics, Daily Operation, Crop Selection, Planning and Start Up Considerations for an Aquaponic Project, Economics of Aquaponics.
Greenhouse sessions will include: Equipment Identification, Explanation of Systems, Explanation of Greenhouse Components, Fluid Dynamics and Water Flow, Environmental Control, Greenhouse Equipment and Selection, Daily Operations- Seeding, Transplanting, Harvesting, Fish Care and Feeding, Water Quality Testing, Filter maintenance, Growing and Marketing Fish and Specialty Crops and Biological Pest Control.
Breakfast, lunch, snacks and drinks are included on each day of the workshop. Each participant receives course materials, a T-shirt and a certificate of participation.
This workshop is a great opportunity for anyone interested in aquaponics to learn from the leading experts in the field in a fun and informative workshop setting. Be sure to register early because spaces are limited.
Nelson and Pade, Inc., offers aquaponics training, consulting, system design, complete system packages and growing supplies; publishes books, videos and curriculums on aquaponics and has continuously published the Aquaponics Journal since 1997. Nelson and Pade, Inc. has designed and shipped their Clear Flow Aquaponic SystemsTM throughout North America and to Europe, Asia and the Caribbean and recently shipped the Living Food BankTM Aquaponic System to Haiti.
For more information, contact Nelson and Pade, Inc., PO Box 761, Montello, WI 53949, tel: 608-297-8708, fax: 866-815-9734, email: info(at)aquaponics(dot)com, web: http://www.aquaponics.com
###