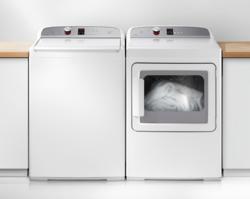 True to our design heritage, we waited to launch this new laundry platform until it was meticulously researched, tested and designed specifically for the North American market and again set the mark for clothes-care innovation.
Huntington Beach, California (PRWEB) June 25, 2013
Fisher & Paykel, a global design innovator and manufacturer of indoor and outdoor home appliances, announced it has launched a premium laundry care solution that promises to re-invent clothes care in North America. After nearly three years of North American research, testing and design, the new AquaSmart™ washer and AeroCare dryer feature SmartDrive™ technology that uses less energy and water while sensing and responding to each load making clothing last longer.
"Fisher & Paykel entered the North American market in 1997 with the electronic, front loading washer and became known for innovation," says Scott Davies, marketing manager for Fisher & Paykel. "True to our design heritage, we waited to launch this new laundry platform until it was meticulously researched, tested and designed specifically for this market and again set the mark for clothes-care innovation."
According to Davies, the AquaSmart washer is one of Fisher & Paykel's most intelligent washing machines and includes a host of features designed for the ultimate in clothes care. The AquaSmart washer is powered by SmartDrive technology to deliver the best clothes care, reduce energy/water consumption and provide greater reliability.
Designed to run with fewer moving parts, AquaSmart features one of Fisher & Paykel's long standing innovations, the SmartDrive. Comprised of just three main components, a small computer, a low-profile agitator and a simple direct-drive motor, SmartDrive allows the washing machine to use less water and sense each load, making valuable clothes last longer.
Additionally, a SmartTouch™ fingertip control dial enables the user to select from 12 pre-programmed cycles including Towels, Regular, Heavy, Delicate, Sheets, Easy Iron, Bulky, Allergy, Whites, Basket Clean, and Rinse & Spin.
A soft-close lid makes opening and closing gentle and easy, allowing ergonomic and hands-free operation. The soft-close glass lid is extremely strong toughened glass, set in an ABS-molded base. It won't mark and is chemical resistant. The top-loading design reduces excessive bending or crouching.
"We believe this is the toughest lid on the market, delivering uncompromising quality and durability," says Davies. "And, opening and closing is counterbalanced to deliver better ergonomics and hands-free operation."
AquaSmart™ also saves power and water, qualifying for Energy Star. It washes clothes by rolling them in and out of a concentrated solution of detergent. It can accelerate to a maximum spin speed of 1100 rpm and a 386 g-force, removing more water than other machines and reducing drying times.
"The AeroCare dryer is AquaSmart's perfect match − functionally, ergonomically and visually. It's designed to match the AquaSmart™ washer, offering a sense of design and organization to the laundry," says Davies. "It's not just attractive, though, it's smart, too."
According to Davies, the AeroCare dryer includes the same design innovation as its washer counterpart. With up to 12 pre-programmed cycles, AeroCare uses auto-sensing to make sure clothes are dried with care and precision based on the needs of the fabric.
Two steam cycles de-wrinkle and freshen garments without excessive power use. Reverse tumbling (clothes tumble clockwise, then counter clockwise) prevents items from tangling and roping. This ensures even drying, prevents hot and damp spots and results in less wrinkling. With a huge seven-cubic-foot capacity, the AeroCare dryer also has the room to dry huge loads without wrinkling.
Fisher & Paykel provides 24-hour service so customers can speak to a real person with any questions about their products. Customer care representatives offer appliance advice, provide extensive product knowledge and give detailed product-use instruction. Representatives can schedule qualified service technicians for installation or repair and provide information on the nearest Fisher & Paykel retailer.
"Our new and innovative laundry solution has a continuous look and feel across our entire premium product offering. An example is our SmartTouch precision dials like those on our high-end ovens," says Davies. "We've delivered a high quality fit and finish so our laundry customers get the same premium experience as they do from our renowned kitchen appliances."
About Fisher & Paykel
Since 1934, the Fisher & Paykel design heritage has been founded on a pioneering spirit and culture of curiosity that challenges conventional appliance design to consistently deliver products tailored for human needs. Incorporating outstanding performance and user-focused innovation, Fisher & Paykel and DCS by Fisher & Paykel appliance brands inspire people through indoor/outdoor kitchen and laundry products designed with real life in mind. Our brands incorporate innovative technologies driven from a passion to produce the most technically advanced, efficient and contemporary styled appliances. As pioneers of the world's first drawer dishwasher – DishDrawer® – Fisher & Paykel continues to pave the way for appliance innovation. Since the 1980s, DCS has defined cooking appliance innovation for the commercial food industry and designs commercial quality appliances for the home. Fisher & Paykel Appliances is a global company operating in 50 countries, manufacturing in the United States, Mexico, Italy, Thailand and New Zealand, employing over 3,300 people with revenue of more than $1 billion annually. For more information, please visit: http://www.fisherpaykel.com.