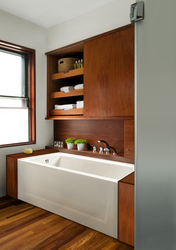 Anaheim, Calif. (Vocus) March 24, 2010
An attractive accessible tub that enhances any bathroom and drains 70 gallons in 30 seconds, a minimalist tub full of practical features for a spa-like experience, and a light weight, easy-and-quick assembly sectional shower for late installation or remodeling – these are among the breakthrough products that Aquatic will showcase at the 2010 Kitchen & Bath Industry Show (KBIS), April 16-18, at Chicago's McCormick Place.
Builders, remodelers, architects, designers and consumers attending KBIS next month won't want to miss Aquatic, the world leader in innovative and inspirational bathware. Aquatic was formed earlier this year from the merger of Lasco Bathware and Aquatic Whirlpools. Prior to the merger, Lasco supplied more than one-fourth of all bath fixtures sold annually in the United States and Aquatic Whirlpools was the top luxury whirlpool bath company, recognized for elegant design, the highest quality materials and an unmatched warranty.
The new company offers the broadest selection of tubs, showers and accessories available from a single source, with more than 330 everyday, luxury hydrotherapy and accessible products, all designed and manufactured to provide an exceptional bathing experience for virtually every type of need.
Aquatic's "show stoppers," on display at KBIS booth #S631, include the following:

Ava Bath, the beautiful, easy in/easy out and fast-draining tub for people with limited mobility. Ava's easy-transfer, automated door lowers to open and rises to close, making entry and exit equally as simple for people who walk up or are in wheelchairs. Its roomy, benchless, bathing well design enables a wider range of bathers, including those with limited mobility, to experience a deeper, more immersive and soothing, soaking experience than possible with a molded seat. A patent-pending, quick-drain feature empties the 70-gallon tub in an astonishing 30 seconds or less, so the bather can exit in seconds versus minutes without getting cold, retaining the full benefit of the bath.
Cooper Tub, a high style, minimalist yet practical design that transforms virtually any bathroom into a uncluttered, tranquil retreat from today's hectic world. This skirted tub, available in soaking and whirlpool models, is a sleek, geometric, sculptural design with a clean and understated look. It is stylistically versatile, likely to appeal to a broad range of tastes and fit with a variety of decors.
SMC Shower, a caulkless, lightweight and durable, four-piece sectional, sheet molded compound shower system, ideal for late installation in new construction as well as for remodeling projects. This is an outstanding option for anyone seeking a stylish, high gloss, smooth wall design that is extremely durable, lightweight and easy to install quickly. The SMC shower is perfect for projects that require maneuvering through small spaces and/or around tight corners, which is often the case when remodeling. It also is a smart choice for builders who prefer to install later in the construction process to help avoid the nicks, scratches, staining or other damage that are more likely to occur with earlier installation.
"These are among the hundreds of truly exceptional Aquatic products that help make our customers' lives better every time they step into one of our tubs or showers," said Gary Andersen, President of Aquatic, "Providing great bathware inspires all of us every day at Aquatic -- it's the driving force behind everything we do, from that first moment when we sit down to design a product to selection of the best materials and all the way through meticulous fabrication followed by timely shipping and delivery."
Aquatic's products are available through distributors and home retail centers nationwide.
About Aquatic:
Aquatic is the world leader in bathware and shower products. Born from the 2010 merger of Lasco Bathware and Aquatic Whirlpools, Aquatic offers the broadest and most inspiring selection of luxury hydrotherapy, everyday and accessible bathing products. Based in Anaheim, California, Aquatic serves distributors, builders, architects, designers and consumers through a nationwide network of state-of-the-art facilities for manufacturing, distribution and support. For more information, visit http://www.aquaticbath.com.
###