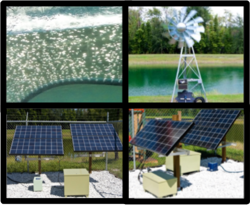 In a world filled with environmental issues, Aquatic Eco-Systems is doing its part by featuring a line of environmentally friendly lake management products.
Apopka, FL (Vocus/PRWEB) April 19, 2011
PerfAerated Diffuser Tubing is aeration tubing and a diffuser all in one. This product is perfect for aerating a narrow or odd-shaped body of water as the tubing can bend to conform to the shape of your waterway. You can provide continuous aeration to lengths of up to 100', which is ideal for raceways and hydroponics systems. PerfAerated Diffuser Tubing is also great for de-icing and creating a barrier to protect from nuisance vegetation without using additional harmful chemicals.
The Hybrid Windmill System is a complete windmill aeration system that won't stop just because the wind does. The Hybrid Windmill System provides everything needed to keep your pond aerated 24/7—while using as little energy as possible—in one package. The windmill provides efficient, environmentally friendly power whenever possible. When winds drop below 5 mph, the electric aeration system will automatically kick in, ensuring your pond will stay aerated.
Aquatic Eco-Systems' Solar Aeration Systems utilize the sun's energy to add oxygen to your pond. This environmentally friendly way to take care of your pond is a great way to save money on electricity. The solar panels convert photons from sunlight into usable energy, which is then stored in a battery and used to power a highly efficient air compressor. The Solar Aeration System can be retrofitted to power LED pond or landscaping lights, small decorative fountains or 12V water pumps.
As electricity costs continue to rise, AES is working hard to bring alternative energy sources to you and your facility. The Solar Power Station from Aquatic Eco-Systems is a complete system that is easy to install and easy to use. All systems have a 12V output, so the Solar Power Stations from AES are great for powering aeration systems, water pumps, feeders and more. Included with all AES Solar Power Stations is SUNDIAL timer technology, which ensures that you'll always have power on demand when you need it. AES's Solar Power Stations use maximum power point tracker (MPPT) controller technology to track the best combination of voltage & current to optimize the power harvested. To prevent battery damage and maximize system life, Solar Power Station packages also include a low-voltage disconnect and overcharge protection.
Aquatic Eco-Systems Inc. (AES) of Apopka, FL, is the largest source of aquatic products and systems worldwide. Since it was founded in 1978, AES has offered unmatched selection, service and solutions to the aquatic community. With over 13,000 products, AES serves a variety of aquatic interests and industries, from aquaculture and lake management to aquariums and water gardens. AES staffs over 20 technicians and biologists to provide service, expert advice, troubleshooting and custom design solutions to hobbyists and professionals alike. For more information, visit AquaticEco.com or call 407-886-3939.
PR Contact - Bruce Vizueta: Office: 407-886-3939 Ext. 164 / Cell: 407-461-8933.
# # #