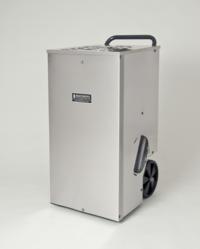 As good, if not better, than any other LGR high-temperature dehumidifier on the market.--Kurt Bolden, Hydro Labs
Suwanee, GA (PRWEB) July 18, 2011
Abatement Technologies announces the powerful AQUATRAP AT450S All-Temperature LGR Dehumidifier. The AQUATRAP AT450S All-Temperature, portable LGR Dehumidifier delivers 450 CFM airflow for faster, more effective structural drying in large-scale commercial water restoration projects. State-of-the-art heat pump technology removes up to 170 pints/day @ AHAM and up to 300 pints/day @ saturation at high temperatures (up to 125 °F), low temperatures (33 °F), and everywhere in between.
Exceptional engineering features of the AQUATRAP AT450S LGR Dehumidifier include:

Powerful 450 cfm airflow in all types of temperature conditions
Performance optimized @ 95° F for maximum water removal efficiency
All temperature performance for efficient and effective water removal and grain depression under a wide range of temperature and humidity conditions
Reliable and easy-to-use controls with automatic, operator-free heat regulation and defrost
Removable aluminum core provides more efficient air and heat transfer and easier, more thorough cleaning
MERV 8 efficiency pleated air filter
Portable upright cabinet design with built-in transport dolly
Durable, rugged construction with heavy duty components
According to Kurt Bolden, IICRC-approved commercial drying specialist instructor at Hydro Labs, the AQUATRAP AT 450S Dehumidifier is, "As good, if not better, than any other LGR high-temperature dehumidifier on the market."
Superior "Beyond Bypass" Technology
Superior heat pump technology in the AQUATRAP AT450S High-Performance LGR Dehumidifier provides powerful 450 cfm airflow in all types of real-world jobsite conditions and outperforms units with "bypass" technology. Systems utilizing "bypass" technology must slow down airflow (cfm) by up to 50% as the air is cooled moving across the evaporator to condense water. Not so with the AQUATRAP AT450S! The AT450S provides a constant 450 cfm airflow – especially in hot conditions above 100° F – keeping work crews productive and structures drying faster.
Automated user controls make using the AT450S a snap. Just set it up and let it do the work. Additional ease-of-use features include a protected bottom drain that removes residual water from the unit and protects the internal pump from cracking when operating in freezing temperatures.
About Abatement Technologies, Inc.
Over the past 25 years, thousands of environmental remediation and disaster restoration contractors have relied on Abatement's state-of-the-art, high performance products to reduce costs and improve productivity.
###