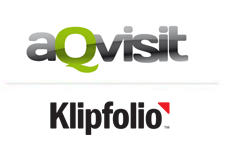 Online marketing consultants like aQvisit are leading the way when it comes to combining digital measurement with data visualizations.
Ottawa, Canada (PRWEB) June 04, 2013
Klipfolio Inc. today announced that it has joined forces with German-based online marketing consultants, aQvisit. This new partnership is centered on delivering online marketing metrics to aQvisit's clients using Klipfolio's real-time dashboard platform. Online marketing consultants, like aQvisit, are increasingly turning to the power of dashboard platforms like Klipfolio to visualize key marketing metrics for their clients. Klipfolio Dashboard specializes in the real-time dashboard space, making it a natural fit for the fast-paced world of online marketing and web analytics.
"Klipfolio plays a major role in our data integration and visualization processes. The possibility to merge data from multiple data streams such as SiteCatalyst, Google Analytics, Excel, SQL and more, makes this solution irreplaceable for our client work. Logical data manipulation in Klipfolio is very powerful feature, which has fulfilled all our reporting needs. We are looking forward to extend our relationship with Klipfolio in many other interesting projects," says Dimitri Tarasowski, principal consultant at aQvisit.
"We are proud and excited to join forces with aQvisit. They are our first German partner and represent an important entry point into that market," says Allan Wille, CEO and President of Klipfolio. "Online marketing consultants like aQvisit are leading the way when it comes to combining digital measurement with data visualizations. When expressed on a dashboard like Klipfolio, it lends the clarity and context that shows clients the real value of each dollar invested into marketing."
Klipfolio's partner program is a unique offering that empowers agencies like aQvisit to visualize and expose marketing metrics to their clients using a real-time dashboard platform. Klipfolio's best-in-class client management suite allows agencies to effortlessly manage multiple clients from one master account. This allows agencies to concentrate on delivering real value to their clients by creating and sharing beautiful dashboards.
About aQvisit
aQvisit is a digital analytics and online marketing consulting company focused on development of online business strategies based on the data driven approach. Since 2009 aQvisit has established analytics and measurement frameworks in many different companies, with a focus on startups. The essential part of our analytics framework combines lean management, six sigma and change management elements. Furthermore, our expertise in multi-channel-attribution and mobile analytics makes it possible to define the right needs and budget strategies for the future. Also we provide high end and IT consulting for comScore Digital Analytix, Google Analytics & AdWords, Webtrekk, Klipfolio and more. To learn more, visit: aQivist.com.
About Klipfolio Inc.
Klipfolio is a real-time dashboard platform that is hosted in the cloud and is accessible on any web-browser or mobile device. Klipfolio has over a decade of experience working with teams small and large to help solve complex data problems. Klipfolio connects to virtually any data source to allow users to create visualizations and dashboards that reflect the data needs of any type of organization. To learn more, visit: Klipfolio.com.