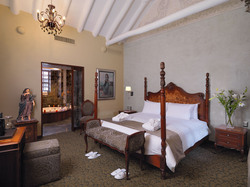 Tourists who visit Cusco look to be in the center of the city, and that's what we offer. It also has a series of first-class amenities, most notably that all rooms and suites have the oxygen enrichment system
Cusco, Peru (PRWEB) May 20, 2010
Tourists in the city of Cusco, Peru will see the high-end offer greatly strengthened since October, when Aranwa Cusco Boutique Hotel opens its doors to guests in the heart of the Inca city. The hotel was officially introduced to 50 of the best Peruvian travel agents last Friday in a business breakfast.
Gabriel Alvarez, Assistant General Manager of Aranwa Hotels Resorts & Spas, stated that one of the main assets of Aranwa Cusco Boutique is its strategic location, two blocks from the Plaza de Armas (the city's main square).
"Tourists who visit Cusco look to be in the center of the city, and that's what we offer. It also has a series of first-class amenities, most notably that all our rooms and suites have the oxygen enrichment system", said the executive.
The five-star hotel is built on a sixteenth-century colonial mansion, once home to the first parish of the city. It offers 43 rooms and suites with intelligent oxygen supplement system, maintaining colonial décor, Cusco School paintings, and gold-leaf plated carvings.
Guests will also enjoy the innovative gastronomic in the hotel's gourmet restaurant - Mishti, as well as a friendly bar, called Khasikay, which means Glory. "Our restaurant is noted for its specialty cuisine and excellent service. We are confident that we will satisfy the discerning palates of our customers and guests, "said Alvarez.
In relation to Aranwa's wellbeing mission, the hotel will also house a spa with native and European treatments which will be accompanied by nutrition services. There will be four treatment rooms, a hairdressing salon, a steam room and a dry sauna, where exclusive treatments will be offered; such as the special Rumy Kuni or hot stone massage.
This new hotel allows for a complete experience for guests visiting Cusco, as it adds on to the property the company already has in the Sacred Valley. "Guests who visit the Sacred Valley also spend nights in Cusco City. Now we can provide a complete offer and the same level of service during their stay" said Alvarez.
SPECIAL OFFER
To mark this grand opening, Aranwa Cusco Boutique Hotel offers their guests who book a room during May or June a 40% discount on the rack rates, as well as a special amenity. Promotional rates start at US$ 168 plus taxes; including breakfast buffet and in-room oxygen supplement.
The opening special can either be booked by telephone or e-mail to cusco@aranwahotels.com between May and June 2010 for travel dates up to and including January 31st, 2011. The offer is subject to availability.
About Aranwa Hotel Resorts & Spas
Aranwa Hotels Resorts & Spas provides high quality hotel and tourism services and exclusive spa treatments related to the destination; seeking harmony with the environment and appreciation of culture. Featuring hotels in the Sacred Valley of Cusco and Vichayito beach in Piura, the company has plans to open hotels in Cusco City, Paracas, Arequipa, the Colca Valley and Puno in the following years.
About San Pablo Group
The San Pablo Group has 19 years of operations in Peru. It is integrated by the San Pablo Hospitals, the largest private healthcare company in the country; as well as the hotel chain Aranwa Hotels Resorts & Spas. Both companies have committed to long-term investments in Peru.
Contact:
Alexandra Santivañez - Marketing Manager
Aranwa Hotels, Resorts & Spas
Telephones: +51 1 434-1452 ext 211 / +51 1 99824-8199
E-mail: asantivanez(at)aranwahotels(dot)com
###