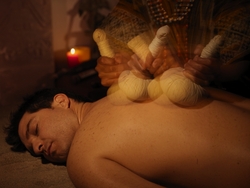 a dreamy Andean wonderland spread over a canal- and lake-filled compound beside the Vilcanota River, far from the clusters of resorts in the Sacred Valley
(PRWEB) April 27, 2010
Aranwa Hotels Resorts & Spas is proud to announce the inclusion of its Sacred Valley property within the Condé Nast Traveler's 2010 Hot List; covering the newest and most innovative 134 hotels worldwide.
The list describes the hotel as "a dreamy Andean wonderland spread over a canal- and lake-filled compound beside the Vilcanota River, far from the clusters of resorts in the Sacred Valley", as well as highlighting its staff who "are on hand to give lifts around the property in a fleet of eco-carts, or to entice an alpaca or peacock to pose for a photo op".
Further, the hotel's Spa & Wellness Center has also been selected in the 2010 Hot List, the only Spa in Peru to have that distinction. With 8,202 square-feet, it "out-equips any other Incan spa, with meditation chambers, three hydrotherapy pools, and the services of local shamans." Condé Nast recommends the 50-minute Mystic Massage given by a poncho-wearing masseuse, who "begins by warming [the guests'] stone treatment table before a workover with hot stones and a body wrap with coca leaves."
According to Gabriel Alvarez, Assistant General Manager of the Aranwa hotel chain, "Being highlighted not only as a hotel but as a spa strengthens our concern for wellness tourism; an integral approach to our philosophy. Our experience in the field managing private healthcare clinics gives us the know-how to handle these issues professionally and effectively."
Following global trends, where health and wellness are of rising importance due to prolonged life expectancy, Aranwa has designed a series of programs linked to tangible improvements in various aspects of daily life: Integral Beauty, Weight Control, Anti-Stress, Anti-age and Rejuvenation, Recovery and Convalescence, Acclimation Program, and Cardiovascular Recovery.
It is important to mention that this is the second award for the property, as it has been previously distinguished for its luxurious Presidential Suite, as one of the top 101 Suites around the world by Elite Traveler Magazine.
About Aranwa Sacred Valley Hotel & Wellness
Aranwa Sacred Valley Hotel & Wellness is part of Preferred Hotels and Resorts and offers, as a brand of Preferred Hotel Group, individual experiences and sophisticated style accommodation, with standards of excellence.
About Aranwa Hotels Resorts & Spas
Aranwa Hotels Resorts & Spas is a chain that provides a destinations guide to Peru, with the mission of providing hotel and tourism services of the highest quality and exclusive spa treatments appropriate to the destination, seeking harmony with the environment and appreciation of culture. At the end of 2010 they will inaugurate a boutique 5 star hotel in the city of Cusco, for which a sixteenth-century colonial mansion is being restored. In 2012, the opening of a resort spa in Paracas is planned. Aranwa also has projects in Arequipa, Colca Canyon, Puno and Mancora.
# # #