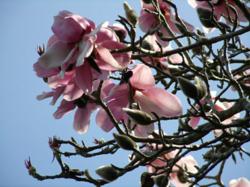 Protecting plants like this from extinction, especially magnolias from Central America, is so profound for us here at the Garden.
San Francisco, CA (PRWEB) February 03, 2012
San Francisco Botanical Garden (SFBG) reached a milestone last November that was 75 years in the making as the magnolia collection was awarded NAPCC (North American Plant Collections Consortium) certification. SFBG's magnolia collection is currently listed as the most important for conservation outside of China, which is the hub of Magnolia species evolution. This rare and historic collection is currently in bloom. The peak magnolia viewing season at the Garden is usually mid-February to mid-March, although some start blooming in late December and last into May.
NAPCC certification represents the work of many people at SFBG dedicated to building an important magnolia collection, beginning in 1937 with Eric Walther, who planted the very first magnolia in the Garden and continued to introduce a total of 17 species and cultivars throughout his tenure as first Garden Director. One of the most famous he planted was the first Magnolia campbellii to ever bloom in the United States, in 1940, causing lines of patrons to wait for a chance to see it at San Francisco Botanical Garden. Walther's first-to-bloom Magnolia campbellii still stands in the Garden, showing its large pink blooms this month.
Carrying on this tradition of magnolia conservation and study is Dr. Don Mahoney, Curator at SFBG, who is slated to be a keynote speaker at the 2012 Magnolia Society International annual meeting, which is happening this March in Northern California. Dr. Mahoney will highlight SFBG's rare collection and guide these international guests around the arboretum.
"Our rarest is Magnolia zenii, which was discovered in 1931 and was known only from a few dozen plants. Seeds were brought to Arnold Arboretum at Harvard and in 1988 we received a plant from the original seed." Dr. Mahoney continues, "Protecting plants like this from extinction, especially magnolias from Central America, is so profound for us here at the Garden."
The three magnolias SFBG has from Central America are the cloud forest magnolia (Magnolia dealbata), Mexican magnolia (Magnolia sharpii), and Guatemalan magnolia (Magnolia guatemalensis), all rare and endangered. These trees thrive in Bay Area weather, especially that of the Sunset with its fog and cooler temperatures.
A free Magnolia Walk map is available at ticket kiosks for anyone visiting the Garden to see some of the best and most interesting magnolias. On Sunday, February 12, San Francisco Botanical Garden Society trustee and docent Dr. Joseph Barbaccia will lead a tour called Magnificent Magnolias at 1:30 PM. Tickets are $8 for members of the San Francisco Botanical Garden Society, and $10 for non-members. Call (415) 661-1316 x400 to reserve your space.
About San Francisco Botanical Garden Society
San Francisco Botanical Garden Society works in partnership with the City of San Francisco/Recreation and Park Department to support San Francisco Botanical Garden, whose 55 acres in Golden Gate Park includes more than 8,000 different kinds of plants native to California and from throughout the world. This tremendous plant diversity, with almost 30 percent of the species wild-collected and many rare and endangered, is displayed in 26 geographic and thematic gardens. The Botanical Garden Society's mission is to build communities of support for the Botanical Garden and to cultivate the bond between people and plants. With the help of its members, donors and volunteers, the Botanical Garden Society funds Garden improvements, provides curatorial and plant collections management services, propagates plants for the Botanical Garden and for sale to the public, maintains the Helen Crocker Russell Library of Horticulture, offers year-round educational and community programming, operates the Garden Bookstore and welcomes visitors from San Francisco, the Bay Area and around the world.
San Francisco Botanical Garden is situated in the heart of San Francisco's Golden Gate Park. SFBG's 26 distinct gardens and collections include African plants, Asian plants, and rarities from Australia, New Zealand, Central and South America, plus SFBG's award-winning California Native Plant Garden, complete with a century-old redwood forest. These collections of rare plants, exotic plants and endangered plants make a trip to SFBG one of the best things to do in San Francisco.
SFBG has daily docent-led San Francisco day tours, and can arrange private tours. SFBG's daily and monthly plants sales are a unique opportunity to acquire garden plants and plant seeds seldom found in commercial plant nurseries or garden centers. SFBG's educational programs include gardening classes, educational lectures, guided walks, children's garden programs, treasure hunts, and other family activities.
The SFBG Bookstore features numerous gardening books and volumes on related subjects including natural science, environmental conservation, horticulture, plant life and gardening tips.
For information about how to become a Society member, or any of San Francisco Botanical Garden Society's products and services, please call (415) 666-2211 or visit http://www.sfbotanicalgarden.org.
# # #