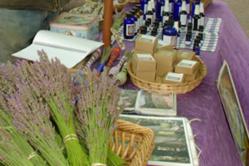 The Summer Gardening Fair is an annual tradition at the Botanical Garden
San Francisco, CA (PRWEB) July 17, 2012
San Francisco Botanical Garden presents the 15th annual Summer Gardening Fair on Saturday, August 4, 2012 from 10 am to 3 pm. This free, fun and friendly gathering of plant enthusiasts is a great way for the whole family to learn about plants and gardening from the Garden's experts.
"The Summer Gardening Fair is an annual tradition at the Botanical Garden," said Kitty Fisher, education coordinator of San Francisco Botanical Garden Society. "We always have a great turnout of people looking to join a local plant club, buy plants and plant products, and enjoy a day in the Garden."
San Francisco Botanical Garden features a wide variety of rare plant species that thrive in San Francisco's unique climate and can't be found in big box stores or commercial nurseries. During the Summer Gardening Fair, Bay Area gardeners can stock up on plants from the impressive selection of rarities.
For those interested in learning more about plants and gardening, the Summer Gardening Fair will have Garden volunteers, plant specialists, and representatives from local horticultural and conservation organizations ready to share their expertise. Local plant clubs accepting new members will also be available.
More family friendly fun at San Francisco Botanical Garden's Summer Gardening Fair includes browsing a wide selection of new and used horticulture books, marveling at special plant varieties like summer fuchsias and begonias, experiencing butterflies up close, and getting a rare glimpse inside a beehive.
The fair entrance is located at the Main Gate of San Francisco Botanical Garden in Golden Gate Park, near 9th Avenue and Lincoln Way.
For information about vendor opportunities, contact Kitty Fisher at (415) 661-1316 ext. 400.
San Francisco Botanical Garden Society encourages plant lovers to become members, as members enjoy half-off at the Garden's daily, monthly and annual plant sales. They also receive free admission to the Garden and discounts at other botanical gardens and selected local nurseries, Annual Plant Sale preview privileges, and access to lively social events.
For information about the Summer Gardening Fair, how to become a Garden Society member, volunteer opportunities available at the Garden, or any of San Francisco Botanical Garden Society's products and services, please call (415) 666-2211 or visit http://www.sfbotanicalgarden.org.
About San Francisco Botanical Garden Society
San Francisco Botanical Garden Society works in partnership with the City of San Francisco/Recreation and Park Department to support San Francisco Botanical Garden, whose 55 acres in Golden Gate Park includes more than 8,000 different kinds of plants native to California and from throughout the world. This tremendous plant diversity, with almost 30 percent of the species wild-collected and many rare and endangered, is displayed in 26 geographic and thematic gardens. The Botanical Garden Society's mission is to build communities of support for the Botanical Garden and to cultivate the bond between people and plants. With the help of its members, donors and volunteers, the Botanical Garden Society funds Garden improvements, provides curatorial and plant collections management services, propagates plants for the Botanical Garden and for sale to the public, maintains the Helen Crocker Russell Library of Horticulture, offers year-round educational and community programming, operates the Garden Bookstore and welcomes visitors from San Francisco, the Bay Area and around the world.
San Francisco Botanical Garden at Strybing Arboretum is situated in the heart of San Francisco's Golden Gate Park. SFBG's 26 distinct gardens and collections include African plants, Asian plants, and rarities from Australia, New Zealand, Central and South America, plus SFBG's award-winning California Native Plant Garden, complete with a century-old redwood forest. These collections of rare plants, exotic plants and endangered plants make a trip to SFBG one of the best things to do in San Francisco.
SFBG has daily docent-led San Francisco day tours, and can arrange private tours. SFBG's daily and monthly plants sales are a unique opportunity to acquire garden plants and plant seeds seldom found in commercial plant nurseries or garden centers. SFBG's educational programs include gardening classes, educational lectures, guided walks, children's garden programs, treasure hunts, and other family activities.
The SFBG Bookstore features numerous gardening books and volumes on related subjects including natural science, environmental conservation, horticulture, plant life and gardening tips.