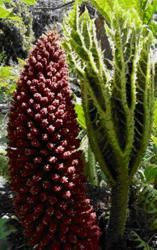 The Ancient Plant Garden path is a stroller-friendly boardwalk loop, perfect for corralling small explorers who have a tendency of wandering. But keep a good look out, you might just catch a dinosaur peeking out from behind a fern
San Francisco, CA (PRWEB) September 01, 2012
In collaboration with the Conservatory of Flowers and California Academy of Sciences, San Francisco Botanical Garden is excited to send you traveling through time with Dino Discovery in Golden Gate Park. Beginning this month, Garden visitors can find themselves immersed in the Ancient Plant Garden featuring an elevated boardwalk and plants from the Early Devonian through Eocene epoch.
On September 6th, 2012, join San Francisco Rec & Park Gardener Jason Martinez and San Francisco Botanical Garden Society Curator Dr. Don Mahoney on an evolutionary journey through time. The tour, beginning at 6 pm, will start in the Devonian period and will follow a pathway marked with dinosaur footprints and surrounded by an extensive collection of Pennsylvanian, Jurassic and Cretaceous plants. The 90-minute program will give visitors a glimpse of the past.
"Dinosaur fans and plant lovers alike will enjoy the Ancient Plant Garden," Curator Don Mahoney explained. "The plants are both glorious and unusual and follows key epochs in earth's history."
For those looking for kid-friendly things to do in San Francisco, the Garden will be holding a plethora of family activities, perfect for children of all ages. On Saturday, September 15 and Saturday, October 13, parents are invited to join San Francisco Botanical Garden for hands-on fun with plants and great take-home creations for kids ages 3-10. Youth Dino Terrariums and Ancient Plant Rubbing will take place at 1:30pm on both days.
Also at the Garden, families can enjoy Dinosaur Story time and Ancient Garden Walk on Sunday, October 7 and Sunday, October 21. Starting at 10:30am on both days, story time listeners will travel back to the time of the dinosaurs and get a visit from a dinosaur relative. Afterwards, families can follow the dinosaur footprints on a special docent-led children's tour of the Ancient Plant Garden.
The Ancient Plant Garden path is a stroller-friendly boardwalk loop, perfect for corralling small explorers who have a tendency of wandering.
Garden visitors are encouraged to explore all of San Francisco Botanical Garden's numerous rare and exotic plant collections during their visit. "With 55 acres of gardens and over 50,000 plants from around the world, you'll be sure to discover something incredible," recommended Curator, Dr. Don Mahoney.
About San Francisco Botanical Garden Society
The Botanical Garden Society's mission is to build communities of support for the Botanical Garden and to cultivate the bond between people and plants. The Society works in partnership with the City of San Francisco's Recreation and Park Department to support San Francisco Botanical Garden.
With the help of its members, donors and volunteers, the Botanical Garden Society funds Garden improvements, provides curatorial and plant collections management services, propagates plants for the Botanical Garden and for sale to the public, maintains the Helen Crocker Russell Library of Horticulture, offers year-round educational and community programming, operates the Garden Bookstore and Plant Arbor, and welcomes visitors from San Francisco, the Bay Area and around the world.
The San Francisco Botanical Garden Society provides daily docent-led tours of the Garden and arranges group tours. The Society holds daily and monthly plant sales providing a unique opportunity to acquire garden plants seldom found in commercial plant nurseries or garden centers. SFBGS's educational programs include gardening classes, educational lectures, guided walks, children's garden programs, and other family activities.
The Garden Bookstore and The Arbor, feature a wonderful variety of plants for purchase, many propagated by SFBGS volunteers, as well as numerous gardening books and volumes on related subjects including natural science, environmental conservation, horticulture, plant life and gardening tips.
About San Francisco Botanical Garden (SFBG)
San Francisco Botanical Garden at Strybing Arboretum is situated in the heart of San Francisco's Golden Gate Park. The Garden's 55 acres include more than 8,000 different kinds of plants from around the world and native to California, including a century-old redwood grove. This tremendous plant diversity is displayed in 26 geographic and thematic gardens displaying African plants, Asian plants, and rarities from Australia, New Zealand, Central and South America, plus SFBG's award-winning California Native Plant Garden. Almost 30 percent of the species in the Garden have been wild-collected and many are rare and endangered. These collections make a trip to SFBG an amazing natural experience.