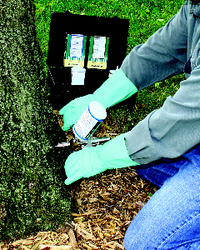 It is important to support these living museums
Omaha, NE (Vocus) November 29, 2010
ArborSystems announced today the donation of tree-friendly Pointer Insecticide to protect the ash collection at the Boone County Arboretum, just outside Union, Ky. and close to Cincinnati, Ohio.
"It is important to support these living museums," said Chip Doolittle, president of ArborSystems in Omaha, NE. "In addition to saving their ash trees, we also donated tree care products for their white birch trees and oak trees."
Boone County Arboretum is the nation's first arboretum within an active recreation park setting and is northern Kentucky's only arboretum. An arboretum is a type of botanical garden focusing on trees and woody shrubs. Central Lawn Care of Fort Mitchell, Ky. is the applicator for the 88 ash trees.
The Wedgle Direct-Inject Tree Treatment System, using tree-friendly Pointer Insecticide, has been credited with saving thousands of Ash trees from Emerald Ash Borer (EAB) since 2001. The survival and recovery of Ash trees is documented by Michigan State University.
The Wedgle is a no-drill tree treatment system -- an easy, fast and tree-friendly way to treat almost any tree in five minutes or less. It is the only tree trunk injection application method that does not require a drilled hole. ArborSystems no-drill method is similar to getting a small scratch or vaccine that heals quickly versus drilling which is comparable to a cut that requires stitches and can be prone to infections. This approach protects trees from further stress and allows trees to put their full energy into recovery. The Wedgle delivers chemicals directly inside the tree fast at a known dose rate with virtually no environmental exposure associated with spraying, soil injections or drenching.
ArborSystems provides a variety of tree injection systems and insecticides, fungicides, nutrients and tree growth regulators designed to meet a broad range of tree care needs. All of the Wedgle's hardware components are made in the United States. For more information, visit http://www.ArborSystems.com.
# # #