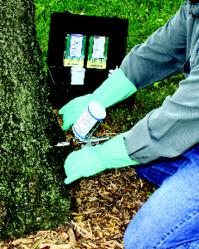 Omaha, Neb. (PRWEB) October 27, 2011
Live demonstrations of the Wedgle Direct-Inject Tree Treatment System that delivers chemicals directly inside the tree without drilling, successful Emerald Ash Borer treatment methods and Shepherd Fungicide now approved for Diplodia Tip Blight, Powdery Mildew, Flower Blight, Rust and other conifer and leaf diseases will be on display at the ArborSystems, Inc. of Omaha, Neb. exhibit (#1031) during the TCI EXPO 2011, November 3 - 5 at the Connecticut Convention Center in Hartford, Conn. TCI Expo is the Tree Care Industry Association trade show and conference.
"Tree, turf and ornamental specialists can try hands-on demonstrations of our fast and effective Wedgle Direct-Inject Tree Treatment System that delivers chemicals at a known dose rate with virtually no environmental exposure associated with spraying, soil injections or drenching," said Chip Doolittle, president of ArborSystems. "The Wedgle, using our tree-friendly Pointer Insecticide, has been credited with saving thousands of Ash trees from Emerald Ash Borer (EAB) since 2002." The survival and recovery of Ash trees is documented by Michigan State University.
The Wedgle is a no-drill tree treatment system -- an easy, fast and tree-friendly way to treat almost any tree in five minutes or less. It is the only tree trunk injection application method that does not require a drilled hole. ArborSystems no-drill method is similar to getting a small scratch or vaccine that heals quickly versus drilling which is comparable to a cut that requires stitches and can be prone to infections. This approach protects trees from further stress and allows trees to put their full energy into recovery.
Shepherd Fungicide is applied with the Portle injection tip placing the chemical where the conifers and hard-to-treat hardwoods can easily absorb it. The Portle injection tip, used with the Wedgle, has multiple ports along the tip that effectively treats and enhances chemical delivery. A check valve at the tip hub's rear keeps the chemical in the tree until it is absorbed providing successful trunk injection treatments.
ArborSystems' Shepherd Fungicide is now approved for conifer blight diseases including Phomopsis Blight, Tip Blight and Diplodia Tip Blight of pines and junipers; Powdery Mildew in Ash, Dogwood, Lilac and non-bearing ornamental Crabapple and Pecan trees; Flower Blight of non-bearing ornamental Cherry, Peach and Plum trees; and Rust on Douglas Fir, Hawthorn, Poplars, Shasta Fir and non-bearing ornamental Crabapple trees.
"Shepherd injected into the flare or base of the tree ensures even distribution through the tree's vascular system so there is no need to spray the tree for conifer and leaf diseases," said Doolittle. It is most effective when applied in the later summer or fall season which allows the chemical to translocate into the bud before leaf drop. The chemical will then be in place to protect the leaf next spring when the tree leafs out. Annual treatments are required for prevention. Shepherd is part of ArborSystems' systemic fungicide product line used as an injection with their Direct-Inject Tree Injection System for the prevention and treatment of Oak Wilt, Anthracnose in Sycamores, Dutch Elm disease and leaf diseases in Crabapple trees.
ArborSystems provides a variety of tree injection systems and insecticides, fungicides, nutrients and tree growth regulators designed to meet a broad range of tree care needs. All of the Wedgle's hardware components are made in the United States. For more information, visit http://www.ArborSystems.com.
# # #