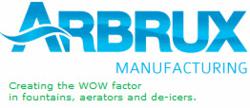 "Our new web presence offers customers so much more than a pretty façade – there is meaningful content, helpful advice and industry thought leadership, all available for free," says Peter Barbe, President, Arbrux
Barrie, Ontario (PRWEB) May 10, 2012
Arbrux Manufacturing, a pioneer in the design and production of fountains, aerators and de-icers is pleased to announce the launch of their new, user-friendly and customer focused website at http://www.arbrux.com. Arbrux products create eye-catching visual impact and can be used in residential, commercial or industrial applications.
"There was no doubt that our website needed a facelift, but we wanted to use this opportunity to go beyond just the aesthetic design of our online presence and build something that would engage our stakeholders more effectively," said Peter Barbe, President, ARBRUX. "Our new web presence offers customers so much more than a pretty façade – there is meaningful content, helpful advice and industry thought leadership, all available for free."
The Arbrux website features:

Interaction and relationship building is a top priority for Arbrux and customers are encouraged to comment on the blog posts, photos and videos. Arbrux is also happy to feature customer success stories, so photos of Arbrux products in action are welcome.
Arbrux works closely with a multitude of companies across many industries to provide commercial lake fountains, floating aerators, pond fountains and more for their projects.
For more information about Arbrux Manufacturing, please visit our website http://www.arbrux.com
About Arbrux Manufacturing
Arbrux manufacturing has designed a line of products that are easy to install, simple to use and requires little effort to maintain. Arbrux has created the WOW factor in our lake fountains, pond aerators and dock de-icers. Our products can be used in virtually every application whether residentially, commercially or in an industrial setting.