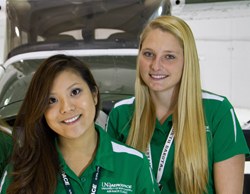 Stillwater, MN (PRWEB) June 02, 2014
Local pilot, Amy Warbalow will soar across the country in a small private airplane competing in the 2014 Air Race Classic (ARC) this summer which begins June 16th in Concord, California and spans over 2,338 nautical miles.
Racers will undergo briefings, flight planning, and fly­-by study prior to take off. The race is an annual all­ female­ pilot air race in which pilots race against their own best speed in the small airplane of their choice. There are, however, limitations: the aircraft must be "stock" models and have their handicap speed identified with a check­pilot. They will zoom through ten intermediate stops in four days enroute to New Cumberland, Pennsylvania in the quest for the fastest time.
This is the second Air Race Classic for Amy Warbalow, flight instructor at the University of North Dakota who has just over four hundred flight hours.
The ARC carries on the long tradition of women's air racing that dates back to 1929. Air racing became popular in the 1920's, but women pilots were forbidden to race against the men in that era, so the ladies started their own. This year's ARC will have fifty teams and over one hundred female pilots compete for the championship title. Last year, Amy was part of the first UND team to compete, and they managed to complete the course in two days – and finish on time. This year, she is racing to become a better pilot.