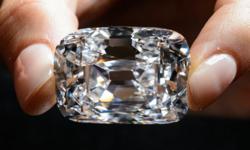 This is the type of diamond we like to set in our Haute Joaillerie pieces
Geneva (PRWEB) November 18, 2012
While the buyer requested to remain anonymous, it was revealed that Fred Mouawad offered the last bid before the buyer secured the flawless Golconda diamond on Tuesday night at an auction in Geneva, Switzerland. The rare, colorless stone—weighing 76.02 carats and roughly the size of a large strawberry—once belonged to Archduke Joseph August of Austria (1872-1962), a prince of the Hungarian line of the Habsburgs.
It should come as no surprise that with Mouawad's legacy of purchasing and collecting some of the world's most important and finest diamonds in the world, that they would be interested in adding the famous Archduke Joseph August diamond to their world-class collection. "This is the type of diamond we like to set in our Haute Joaillerie pieces," said Co-Guardian Pascal Mouawad.
François Curiel, director of the international jewellery department at Christie's, said that "Historical diamonds originating in the Golconda mines of India, virtually exhausted by the 18th century, include the famous Koh-i-noor, now in the British crown jewels, and the blue Hope Diamond, part of the Smithsonian Institute in Washington DC."
Records show the Archduke deposited the stone in the vault of the Hungarian General Credit Bank in 1933.
"Three years later it was sold to a European banker, and kept in France, locked away in a safe deposit box, where fortunately it remained undiscovered during the Second World War," the auction house said.
It surfaced at auction in 1961 and again at Christie's in November 1993, netting US$ 6.5m at the time. The stone was subsequently slightly recut and did not appear again until Tuesday, where it fetched a world record price per carat of US$ 280,000 for a colorless diamond." The Archduke Joseph Diamond is the finest and largest perfect Golconda diamond ever to appear at auction, and the largest ever graded by the GIA", Rahul Kadakia of Christie's said.