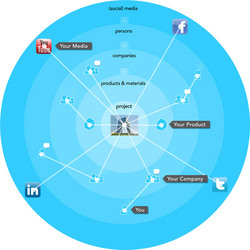 the more connections a project has the richer it becomes
(PRWEB) September 8, 2010
Archello is an open source platform, everyone with a story to tell on building projects is invited to tell it. From the famous architect - Zaha Hadid, Rem Koolhaas (OMA) and Renzo Piano have told theirs, to the amateur photographer your experience of a project can be shared. A story on the construction method by the chief engineer can sit next to a story on the building climate by the tenants.
A new technology - Augmented Reality is a free application allowing users to present their projects literally in the palm of their hand. A useful tool for client presentations, Building Information Modelling and company promotion.
The slogan is 'your connection with architecture'. Not only are projects and stories published on the site there are over 1000 building products and in partnership with Materia over 1400 innovative materials. There is the unique ability to connect everything used in a project from the façade material to the shower head.
The 'Connection Badge' a useful feature of the site, maps the project showing the connections between companies, people, materials, products, media and other social networking sites. The more connections a project has the higher ranked it is on Archello, which encourages networking. Martijn Postmus one of the two developers of the site describes the badge "it is the meeting place of a project and encourages the project to keep growing, the more connections a project has the richer it becomes and the more exposure it gets."
It was one year ago in a time of austerity that the developers Jeroen van Oostveen and Martijn Postmus thought the time was right for a business network which encouraged property development and networking between property professionals. The developers also own Architectenweb a publishing company focussing on architecture.
Archello is part of the publishing group Architectenweb, this includes Architectenweb.nl, AWM (Architecten Web Magazine) and Materia. They cover architecture, design and innovation. Architectenweb.nl is the most visited architecture website in the Netherlands. Materia is the worlds largest open innovative material database with over 70,000 members.
Archello sponsors: Hansgrohe, Under-Cover Doorframes, Rockwool Rockpanel, Steni, Mosa, Interface, Keimfarben, Shüco, Villeroy & Boch, Gyproc, Bolidt, Solarlux and Flos
Click here for press photos.
###