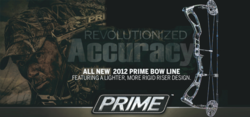 Prime bows are superior to many of the other bows on the market
Gilroy, CA (PRWEB) January 07, 2012
Predator's Archery, a full-service Bay Area archery shop, is proud to announce that it now carries G5 Prime Bows. The Prime bows sport a number of top-class features that give them an edge over their competitors. They have a patented Parallel Cam Technology that balances the load equally on each side of the cable resulting in practically no cam lean, reduced horizontal nock travel and less limb fatigue.
"Prime bows are superior to many of the other bows on the market. Prime bows incorporate many innovative features that make them more accurate and better shooting then their competitors," said Curtis Campisi of Predator's Archery.
The Prime bows also have a Forged 7000 series aluminum riser. The first of its kind, the Forged 7000 series aluminum is twice as strong as the 6061 T6 aluminum that competitors use. The bows also use Gore Fibers strings and cables. The proprietary string material is a high performance blend of Gore Performance Fibers and BCY 452X, giving the Prime bows consistent peep alignment and bow tune. A titanium cable guard reduces cam torque by allowing the cables to flex inward during the shot but clear out of the way once the arrow is released.
Prime bows are available in two models, the Centroid LR and Shift LR, and in 50-, 60- and 70-pound draw weights that offer 332 feet per second IBO speeds. The Prime bows also are available in Optifade Open camouflage, Realtree AP camouflage, Optifade Forest camouflage, Jet Black and anodized Ice Blue.
For more information on the Prime line of bows, call 408-840-2159, view the store on the web at http://www.predatorsarchery.com or visit 7350 Monterey St., Gilroy, CA 95020.
About Predator's Archery
Predator's Archery is a full-service Bay Area archery supplies shop that supports the perfect environment for beginning, intermediate and advanced levels of archery with expert advice for choosing the proper bow, equipment and instructional techniques.
The Bay Area Predator's Archery shop offers the latest archery supplies, outdoor supplies, hunting supplies and bow supplies, including hunting bows or target bows, and compound bows or recurve bows. They provide archery lessons, as well as competitive or recreational archery, indoor and outdoor archery ranges and sponsor-certified archery tournaments.
###