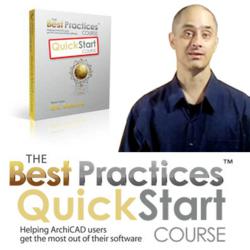 Then one day while searching the Web for lessons I stumbled onto this fellow called Eric Bobrow. Well this would have to be the best money I ever spent. I believe Eric's course should be the tutorial that is supplied with ArchiCAD.
San Rafael, CA (PRWEB) March 30, 2012
Six months ago, ArchiCAD expert Eric Bobrow released his innovative ArchiCAD basic training QuickStart Course. More than 140 users have signed up, enlarging the roster in Bobrow's Best Practices website community to over 650 members and 49 countries from around the world.
Bobrow is an internationally noted expert and trainer, and has been called "the ArchiCAD Guru" by many of his colleagues. His "7 Keys to Best Practices for ArchiCAD" is a classic treatise on the best ways to work in the program, and has been avidly read by almost 10,000 subscribers to Bobrow's ArchiCAD tutorials email newsletter.
The QuickStart Course covers the basics of using ArchiCAD, but it's not intended just for beginners. Many veterans who have used the program for years have commented that the 13 hours of easy-to-follow video lessons have shown them many tips and tricks that they weren't aware of.
Comments have included: "When did they add that feature?" and "I had no idea that you could do that operation as easily as what you showed." Students have appreciated that the video lessons are available to view whenever their schedule allows, and that they can download the videos for permanent access on their own computer.
The QuickStart Course is one component of the Best Practices Course, Bobrow's popular ArchiCAD training that recently celebrated its first anniversary.
Quotes from Course Members
QuickStart Course member John Allan of London UK posted a comment on the course website:
"The QuickStart Course should come with every new copy of ArchiCAD to get new users working with this complex, and expensive, programme quickly and effectively. Eric deserves a great round of applause for his generosity and professionalism in the way he has presented the QSC. He has packed so much information into each module that he explains very clearly and patiently."
Allan continued: "The QuickStart Course is exceptionally good value for the money as it gets one, very quickly, working with the software."
Albert Aeberhard, of Griffith Australia writes: "Your lessons are fantastic. I have already improved my drafting speed ten fold."
Anthony Warburton of Hamilton Australia posted a comment: "Then one day while searching the Web for lessons I stumbled onto this fellow called Eric Bobrow. Well this would have to be the best money I ever spent. I believe Eric's course should be the tutorial that is supplied with ArchiCAD. The lessons are fun and very easy to understand and if you don't quite understand something you just fire off an email to Eric and within no more than an hour you have your own personal answer direct from the guru himself."
Warburton continued: "I would recommend this course and Eric Bobrow to any user whether novice or veteran as it is the best reference going."
Bobrow Comments
Bobrow writes "I've worked with ArchiCAD users for well over 20 years, and am very familiar with the struggles that come up when people don't understand the basics very well. They do things the long way around, and find the program tedious and frustrating."
Bobrow continues: "By teaching the basics with Best Practices methods in mind, the path is clear towards efficient and productive use of this powerful tool. I enjoy teaching, and love to get feedback from users on how excited they are to finally get a handle on working quickly and easily in the program."
On Sale Now
In celebration of the 6 month anniversary, Bobrow Consulting Group has announced a special limited-time sale offer on both the QuickStart Course and his comprehensive ArchiCAD training Best Practices Course. The offers include both price reductions as well as very affordable payment plans.
For more information, please visit the QuickStart Course page at http://www.acbestpractices.com/quickstart or the main Best Practices Course website at http://www.acbestpractices.com.
About Eric Bobrow and Bobrow Consulting Group
Eric Bobrow is an internationally recognized ArchiCAD expert and author of more than 30 Tips and Tricks articles and video tips published on the ArchiCAD Wiki, AECbytes, Cadalyst, etc. A former Graphisoft Platinum VAR and U.S. Reseller of the Year, Bobrow was a Graphisoft authorized reseller for 21 years.
Bobrow Consulting Group is the creator of MasterTemplate, the leading independent ArchiCAD template, a robust project startup kit that is the office standard for over 600 firms worldwide. Bobrow's Best Practices Course – an online training resource for ArchiCAD users – was launched in November 2010, and now serves a community of over 650 members.