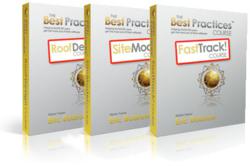 There is so much to learn to take full advantage of ArchiCAD's power. These new mini-courses break up the huge task into smaller, more affordable chunks, and make it easier for people to fit into their schedule.
San Rafael, CA (PRWEB) September 28, 2012
ArchiCAD expert Eric Bobrow has established himself as the leading online trainer for Graphisoft's powerful, complex and sophisticated BIM software.
After 20 years as an ArchiCAD reseller and trainer, Bobrow shifted his focus to online training in the fall of 2010 with the launch of his comprehensive Best Practices Course website.
The popularity of his ArchiCAD Tutorials YouTube channel has been growing rapidly, more than doubling in size to 450,000 views and 2,000 subscribers in 201 countries in the past 6 months.
Bobrow is the creator of MasterTemplate, the most widely used independent ArchiCAD template, trusted by over 780 architects and design firms around the world. With over 750 members in his online courses, Bobrow has been called "the veritable Guru of ArchiCAD experts."
Bobrow has just released three mini-courses focused on specific ArchiCAD topics. Each one is a set of video lessons excerpted from his Best Practices ArchiCAD Training Course.
By packaging these ArchiCAD tutorials into smaller products, Bobrow expects to reach an even wider audience:
"There is so much to learn to take full advantage of ArchiCAD's power. These new mini-courses break up the huge task into smaller, more affordable chunks, and make it easier for people to fit into their schedule."
ArchiCAD Specialty Courses
Each course provides a series of easy to follow video lessons that teach how to speed up work in ArchiCAD while maintaining control and improving model and documentation quality. Optimum methods and techniques are taught for modeling quickly, drafting precisely and navigating rapidly around ArchiCAD, in general and specifically with relation to roof systems and site models.
These ideas have been refined during Bobrow's 22 years of using and teaching ArchiCAD. Bobrow states: "These are the fastest ways to work cleanly, wasting no effort as you power through your tasks."
The three new courses include:

FastTrack! Course - Workflow speed optimization. 19 easy to follow lessons from the Best Practices Course focused on working quickly and precisely in ArchiCAD.
SiteModel Course - Site design and terrain modeling. Import site drawings as DWG or PDF files and build an accurate site model, includes site improvements and cut and fill calculation.
RoofDesign Course - Roof design, modeling and documentation. How to design roof systems and model them to get accurate drawings for your project.
The 3 courses include over 16 hours of high quality training videos that may be viewed in a web browser or downloaded for permanent reference and offline access.
New ArchiCAD Training Courses On Sale Now
These new courses will retail for $97 each, but are offered as part of an introductory sale at reduced pricing. Visit the website for more information and to enroll in these three new ArchiCAD Training Courses.
The Best Practices Course as well as the QuickStart Course are also on sale as part of the launch promotion.
About Eric Bobrow and Bobrow Consulting Group
Bobrow is a former ArchiCAD reseller of the year and Graphisoft Platinum VAR, as well as author of dozens of tips and tricks articles and videos published on the ArchiCAD Wiki, AECbytes, Cadalyst, ArchiMAG and other popular web portals. His company Bobrow Consulting Group provides training and consulting services for users around the world.
The Bobrow Consulting Group website houses Bobrow's personal blog as well as dozens of tips and tricks articles and video tutorials on ArchiCAD. It has become a frequently-visited destination by users from around the world.
In addition to his focus on his favorite design software, over many years Bobrow has been an avid student of internet marketing, developing his skills and understanding of the latest techniques for search engine optimization (SEO), email marketing, affiliate promotion, membership website development, and video production.
Bobrow teaches architect marketing strategies in his new Internet Marketing for Architects Course, and helps building design professionals leverage online technologies to expand their practice and bring in more clients and win more projects.