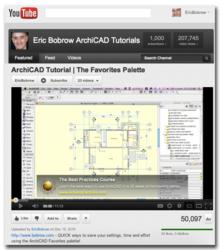 I love helping ArchiCAD users take better advantage of this powerful software. I teach beginners as well as veterans how to get things done fast while still being precise.
San Rafael, CA (PRWEB) April 10, 2012
ArchiCAD tutorial videos are available on Eric Bobrow's popular YouTube channel. Interest has been growing in recent months, boosting the number of views to over 200,000 by early April 2012. Subscribers have grown to more than 1,000, making it the most popular channel outside of ArchiCAD developer Graphisoft itself.
Bobrow continues to post new training videos each month in an effort to create the most valuable library of free tutorials for ArchiCAD users available online. As of this date, there are 20 videos totaling more than 6 hours of detailed training as well as a great variety of tips and tricks.
ArchiCAD Tutorial | The Favorites Palette recently passed the 50,000 views mark, making it one of only a handful of ArchiCAD-focused videos to achieve that level. It dynamically demonstrates how to take advantage of one of the software's most powerful features to speed work and improve consistency.
Dedicated to ArchiCAD Training
Eric Bobrow is widely known for his comprehensive ArchiCAD training website The Best Practices Course, which currently has over 650 members from 49 different countries. The curriculum teaches users how to optimize their working process based on Bobrow's classic 7 Keys to Best Practices methodology.
Bobrow's QuickStart Course is an ArchiCAD basic training that recently celebrated its anniversary. It teaches the most important tools and methods needed by beginners in order to become productive and self-sufficient.
Bobrow says: "I love helping ArchiCAD users take better advantage of this powerful software. I teach beginners as well as veterans how to get things done fast while still being precise."
Comments on individual videos and the channel itself show the level of appreciation that users have for his work: "Thank you very much - your explanations always are simple and clear." "Congratulations one more time for your very good tutorial :) Keep on helping us :D". "This is one of my favorite tips. Always much easier for editing text in Word or Pages vs. ArchiCAD. Thanks for posting!" " I'd like to congratulate you for your videos. They're helping me a lot in understanding this new (not so new) world called ArchiCAD."
About Eric Bobrow and Bobrow Consulting Group
Bobrow is a former ArchiCAD reseller of the year and Graphisoft Platinum VAR, as well as author of dozens of tips and tricks articles and videos published on the ArchiCAD Wiki, AECbytes, Cadalyst, ArchiMAG and other popular web portals. His company Bobrow Consulting Group provides training and consulting services for users around the world.
The Bobrow Consulting Group website houses Bobrow's personal blog as well as dozens of tips and tricks articles and video tutorials on ArchiCAD. It has become a frequently-visited destination by users from around the world.
In addition to his focus on his favorite design software, over many years Bobrow has been an avid student of internet marketing, developing his skills and understanding of the latest techniques for search engine optimization (SEO), email marketing, affiliate promotion, membership website development, and video production.
In June 2012, Bobrow plans to launch his new Internet Marketing for Architects training course, which will teach architects and other building design professionals effective strategies for leveraging these new technologies to build their practice and bring in more business.