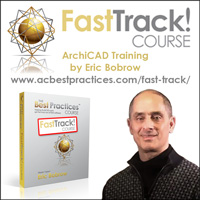 By optimizing the most common operations within the program, users are able to reduce their design, modeling and production time by 20% or more.
San Rafael, CA (PRWEB) May 12, 2012
A new ArchiCAD training course is now available to help users speed up their work while retaining full control and quality. Eric Bobrow, internationally recognized expert on ArchiCAD, has added another option to his growing collection of online video trainings.
The FastTrack! Course is an 8 hour series of lessons taken from Bobrow's popular ArchiCAD Best Practices Training Course that focus on tuning up the mechanics of ArchiCAD usage. It teaches the optimum methods and techniques for modeling quickly, drafting precisely and navigating rapidly around ArchiCAD.
Designed for experienced ArchiCAD users to improve their efficiency, FastTrack! is also accessible for newer users since it builds from basic Best Practices principles in a logical and progressive manner.
Eric Bobrow states "By optimizing the most common operations within the program, users are able to reduce their design, modeling and production time by 20% or more."
Course Outline
The course is broken up into 19 easy-to-follow videos that cover the following topics:
Control Basics
-- Coordinate Input, the Tracker and Guide Lines
-- Precise Placement of Elements
Building Your Model – Alignment and Relationship
-- Guide Lines
-- Using the Ruler and Shift Key Constraints
-- Introduction to Virtual Trace and the Trace & Reference Palette
-- Uses of Virtual Trace for Model Views, Layouts and 2D Drawing
Navigation and Drafting Power Tips
-- Advanced Coordinate Methods
-- Advanced Mouse Constraints and the Control Box
-- Using the Grid for Sketching and Precise Placement
-- Navigation Shortcuts and Speed Tricks
-- Managing the 3D Window: Showing What You Need, How You Want to See It
-- Setting and Saving Precise 3D Viewpoints & Views
-- Keyboard Shortcuts and Special Mouse Clicks
Advanced Selection and Editing
-- Advanced Element Selection and Settings
-- Power Selection Techniques
-- Editing Element Geometry with the Pet Palette
-- Using the Pet Palette with Editable Hotspots and Sub-Elements
-- Drawing and Editing in 3D and Section
-- Working in 3D using Gravity, 3D Guide Lines and Temporary Elements
For more information or to sign up for the FastTrack! Course, please visit http://www.acbestpractices.com/fast-track/
About Eric Bobrow and Bobrow Consulting Group
Bobrow is a former ArchiCAD reseller of the year and Graphisoft Platinum VAR, as well as author of dozens of tips and tricks articles and videos published on the ArchiCAD Wiki, AECbytes, Cadalyst, ArchiMAG and other popular web portals. His company Bobrow Consulting Group provides training and consulting services for users around the world.
Eric Bobrow's ArchiCAD Tutorials YouTube Channel now has over 250,000 views, and includes many hours of high-quality free ArchiCAD training videos.
The Bobrow Consulting Group website houses Bobrow's personal blog as well as dozens of tips and tricks articles and video tutorials on ArchiCAD. It has become a frequently-visited destination by users from around the world.
Eric Bobrow is currently working with architect Mark Moscrip to develop a Spanish-language ArchiCAD training course based on his popular Best Practices Course.
In addition to his focus on his favorite design software, over many years Bobrow has been an avid student of internet marketing, developing his skills and understanding of the latest techniques for search engine optimization (SEO), email marketing, affiliate promotion, membership website development, and video production.
In June 2012, Bobrow plans to launch his new Internet Marketing for Architects training course, which will teach architects and other building design professionals effective strategies for leveraging these new technologies to build their practice and bring in more business.