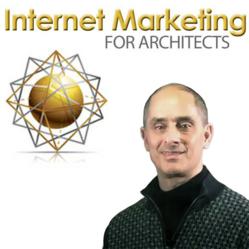 "I found the webinar to be very enlightening. I am gathering data for the design of my Web Site and was about to do everything wrongly. Your Webinar certainly caused me to rethink every design & informational concept I was working on.
San Rafael, CA (PRWEB) November 19, 2012
Most architect websites fail to bring in new clients and projects because they are created with a design focus rather than as a marketing project. A series of free webinars on Internet Marketing for Architects is getting enthusiastic reviews from attendees as it reveals to them for the first time the serious problems made by most architects as they develop their websites. These issues limit the effectiveness of these sites, often preventing them from being found by potential clients.
Eric Bobrow, a veteran architectural technology consultant, author and trainer, has identified 9 common mistakes found in architect websites that cripple their ability to attract new design business. Through years of extensive study and experimentation in internet marketing for his own architectural software training courses and add-on products, Bobrow has refined and developed strategies that work to attract new clients in the architectural space.
In the free Internet Marketing for Architects training webinar, Bobrow presents an illuminating overview of how traditional marketing and promotion can be adapted to the new digital and social media tools. He divides the process into four linked processes, starting with Visibility (how easy it is to be found by prospective clients).
There are 11,100,000 Google searches each month worldwide for the term "architect", and millions more for related terms such as "home remodel" or "custom home design." It is clear that more and more people use the internet to research and choose architects and other building design professionals. Traditional methods of advertising in print publications such as the Yellow Pages reach fewer people than ever before.
Several of the mistakes Bobrow has identified reduce the likelihood of an architect website ranking well in search engine results, which means fewer people actually discover these firms. A number of the other common issues relate to the concepts of engagement and conversion. Typical sites by design firms focus on presenting beautiful images of completed projects, but do not actually address the needs and interests of the majority of site visitors.
One inspiring case study included in the presentation is the story of Modative, a small Los Angeles architectural firm that was able to boost visitors to their website 6 times over within a few months. They now rank number 1 in Google for their targeted keyword searches, winning out against much larger and better financed firms, and find that 90% of their projects originate through people discovering their website.
Other case studies presented by Bobrow include dramatic improvements for his clients in website rankings. These have generated more than a 1500% increase in traffic and 8 times as many monthly project inquiries within a 6 month period of strategic marketing and promotion.
In the webinar, Bobrow presents 5 ideas that can be easily implemented by architects to make their sites more effective. Firms that follow these principles will boost their rankings in the search engines, thus becoming more visible to prospective clients. They will also be able to boost engagement with visitors, increasing the number of active leads, and start to see a steady flow of serious inquiries about design projects coming directly from their online promotional efforts.
Response to the presentation has been very positive, with many attendees commenting that it opened their eyes to the reasons why their websites were failing to bring in design work.
Chicago-area architect Jim Ohle commented: "I found the webinar to be very enlightening. I am gathering data for the design of my Web Site and I have to admit, I was about to do everything wrongly. Your Webinar certainly caused me to rethink every design & informational concept I was working on."
The free Internet Marketing for Architects webinar is presented on an ongoing basis. Interested architects and building design professionals may register to attend on the following page:
Architect Marketing Training Webinar Registration
For those who would like to go deeper into this subject, Bobrow has created a comprehensive step by step architect marketing training called the Internet Marketing for Architects Course. This 12 week series of lectures covers this topic in detail with over 20 hours of recorded video lessons playable on demand.
In addition to the webinar and training course, Bobrow is starting an Architect Marketing Coaching Program to provide ongoing guidance to architects who would like to optimize their online marketing strategy. The Coaching Program is delivered to members through a monthly series of live webinars, and includes new training materials as well website critiques and open question and answer sessions.
About Eric Bobrow and Bobrow Consulting Group
Bobrow is a former ArchiCAD reseller of the year and Graphisoft Platinum VAR, as well as author of dozens of tips and tricks articles and videos published on the ArchiCAD Wiki, AECbytes, Cadalyst, ArchiMAG and other popular web portals. His company Bobrow Consulting Group provides training and consulting services for users around the world.
The Bobrow Consulting Group website houses Bobrow's personal blog as well as dozens of tips and tricks articles and video tutorials on ArchiCAD. His ArchiCAD Tutorials YouTube Channel has become a popular destination for ArchiCAD users around the world, with over 550,000 views.
Bobrow has developed an internet marketing system especially tailored for architects, including search engine optimization (SEO), email marketing, affiliate promotion, membership website development, and video production.