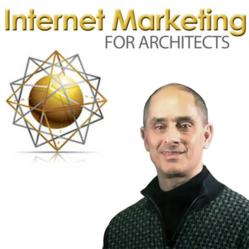 We've been working with Eric now for several months and continue to be amazed not only by the depth and breadth of his internet marketing knowledge but also by his ability to share it so clearly and convincingly through webinars and training materials.
San Rafael, CA (PRWEB) November 26, 2012
Architects have suffered greatly in recent years due to the general economic downturn, which has hit the building industry harder than most other sectors. With the severely limited number of new projects, many building designers have struggled to keep their doors open.
As the economy improves, and the building industry recovers, many architects are now competing aggressively for design work, often cutting fees in order to win contracts. Others are still waiting for the phone to ring, since they do not have an effective marketing plan that ensures that they are found by prospective new clients who could use their services.
Veteran architectural consultant Eric Bobrow has created a comprehensive architect marketing training course to help these creative professionals take advantage of the latest online strategies to bring in a steady flow of interested website visitors and serious inquiries about new design projects. The Internet Marketing for Architects Course launched in the summer of 2012 as a series of 12 weekly webinar sessions organized around three progressive levels of marketing mastery.
As the 91 inaugural course members went through each level, they gained knowledge and understanding of general internet marketing principles, and were given practical, step by step directions for how to set up and develop content for their own websites, based on the needs and interests of their ideal clients along with traditional keyword research targeting. They learned effective methods for leveraging press releases, creating promotional videos and optimizing local directory listings with pictures and reviews to promote their firms.
Since the initial course series ended in late September 2012, many participants have been busy creating or reworking their websites. Firms that have gone through the program have documented dramatic changes in their online presence.
JHD Architects, based in Kent in the United Kingdom, reports that after achieving #1 ranking in Google for specific local search terms, monthly traffic to their website has increased by over 1900% in just six months between April and October, rising from 188 unique visitors to 3692. Even more important to their success, they now receive an average of 5 or 6 inquiries each month about new design work. This is a dramatic improvement compared to the occasional web-based inquiry (perhaps one every month or two) before implementing this Internet Marketing for Architects system.
Susan Ball of JHD Architects comments: "We've been working with Eric now for several months and continue to be amazed not only by the depth and breadth of his internet marketing knowledge but also by his ability to share it so clearly and convincingly through his webinars and training materials."
Roderick Anderson, principal of Sarco Architects in Costa Rica, wrote about his experience: "The number of new project inquiries has dramatically increased after our work in the Internet Marketing Course. It is well worth the time and effort invested in developing a good online presence. I am really happy with the look and feel of our website which we put together with guidance from Eric Bobrow and his team. And I'm extremely pleased to see that we now rank at the top of Google for many of our primary keyword searches."
Bobrow is in the process of relaunching the Internet Marketing for Architects Course accompanied by a new Architect Marketing Coaching Program. The recorded videos from the original webinar course series are being supplemented by live sessions each month that will give participants new training lessons as well as the opportunity to ask questions and see their own websites critiqued.
Architects and building design professionals who would like more information or to enroll in the course may visit the following web page:
Architect Marketing Training - Internet Marketing for Architects Course
Eric Bobrow also offers a free Architect Marketing Webinar that introduces his Internet Marketing for Architects system and reveals 9 common mistakes found in architect websites that render them ineffective in attracting new clients.
For more information on this eye-opening educational webinar presentation, refer to this press release:
Free Architect Marketing Training Webinar by Eric Bobrow Teaches Internet Strategies to Promote Design Firms and Attract New Clients
Bobrow Consulting Group also offers marketing for architecture firms as a consulting service through their Architect Marketing Jumpstart Program.
About Eric Bobrow and Bobrow Consulting Group
Bobrow is a former ArchiCAD reseller of the year and Graphisoft Platinum VAR, as well as author of dozens of tips and tricks articles and videos published on the ArchiCAD Wiki, AECbytes, Cadalyst, ArchiMAG and other popular web portals. His company Bobrow Consulting Group provides training and consulting services for users around the world.
The Bobrow Consulting Group website houses Bobrow's personal blog as well as dozens of tips and tricks articles and video tutorials on ArchiCAD. His ArchiCAD Tutorials YouTube Channel has become a popular destination for ArchiCAD users around the world, with over 550,000 views.
Bobrow has developed an internet marketing system especially tailored for architects, including search engine optimization (SEO), email and press release marketing, website and social media development and video production.