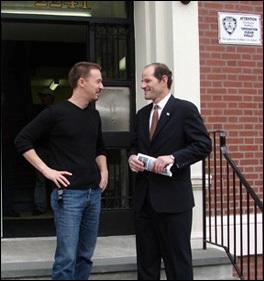 Jack does good work. He has a good sense of design, and you can count on him to be hands-on and on-site... an architect who's got the whole package.
New York City, NY (PRWEB) June 23, 2006 –-
"Green" architecture in New York City. OCV Architects is making a better New York with their 'Jacob's Place' construction, making them the continued architect firm of choice for urban revitalization.
Architect Jack Coogan, founding partner of OCV Architects, gave a tour of the sites, which include:
Jacob's Place, a 63 unit affordable housing development and daycare center.
2241 Webster Avenue, a rehabilitated tenement with "green" features
A community computer training center
A community playground.
On the tour were Elliot Spitzer, NY Attorney General, and Edward Norton, actor, activist and stakeholder in the Enterprise Foundation that is one of the sponsors of the multi-site project.
Mr. Spitzer and Mr. Norton champion the revitalization of blighted neighborhoods to reclaim vacant lots and rebuild condemned structures into affordable housing, youth recreation and community preservation missions. This recent initiative is part of NYC Mayor Michael Bloomberg's New Housing Marketplace plan to bring 165,000 units of affordable housing to New Yorkers within the next five years.
'Green' architecture has become a fashionable buzzword in NYC housing, but OCV has made it a reality with beautiful, practical, eco-friendly buildings while maintaining their long-established style of community inspired architecture. The finished work will include lush green roofs, highly durable bamboo floors and energy efficient appliances.
While the designs are clean and 'green', they also pay respect to the history, architecture and culture of the surroundings. The goal for Jacob's Place — to revive the glorious art-deco period of the North West Bronx, as well as pay homage to local leaders like the late Astin Jacobo.
According to Pat Logan of the Fordham Bedford Housing Corporation, on working with OCV's Jack Coogan, "Jack does good work. He has a good sense of design, and you can count on him to be hands-on and on-site... an architect who's got the whole package."
Jack Coogan, a New York City R.A. for over 30 years, says that OCV "likes to work within the existing fabric of the city to make a better New York through architecture."
The positive impact the architect firm has had on the city dates back to the early 80's with the early Urban Homesteaders rehabilitation of the Lower East Side to completion of over 100 buildings in Bushwick, a former Brooklyn fringe neighborhood.
About the architect firm:
Oaklander, Coogan and Vitto, P.C., is a versatile, client-driven architect firm serving the New York Metropolitan area since 1973. Specializing in affordable and special needs housing, the firm has partnered with many notable urban housing authorities and development groups to create multi-family housing, private homes, commercial spaces, schools, churches and community centers with great respect for each site's urban landscape, history and culture.
For more information:
Anne Ginsberg
212-675-6470
# # #