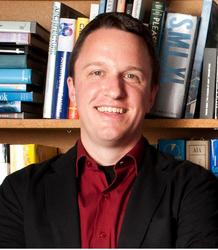 Teaching students of architecture is an honor, a great responsibility, and an inspiration; I am constantly amazed and impressed by the students' efforts and passion for architecture
San Francisco, CA (Vocus) November 16, 2010
San Francisco architect Geoff Gibson has accepted an invitation to teach ARH 150: Design Studio 1: Materials, Ordering Systems, and Form this winter at the Academy of Arts University in San Francisco. This intensive, foundational design class teaches students fundamental drafting, model building, space and form design, and analysis of the built environment. All of these elements culminate in the design of a hybrid dwelling for two clients.
"Teaching students of architecture is an honor, a great responsibility, and an inspiration; I am constantly amazed and impressed by the students' efforts and passion for architecture," said Geoff Gibson. "I am proud to help tomorrow's architects start out on the right path."
Geoff, teaches core skills he has learned from his personal experiences, years of practice, and education from McGill University. Teaching at the university also keeps him connected with the architectural and designer communities and in touch with the latest design and technical innovations and trends.
For more information about Winder Gibson or the Academy of Arts School of Architecture, contact Geoff Gibson at 415-318-8634 X4003. To see photographs of Geoff Gibson and John Winder's projects, including the recently completed Market Street penthouse for YouTube co-founder Steve Chen, visit their website http://www.archsf.com.
About Winder Gibson Architects
Winder Gibson specializes in commercial and residential remodeling and architecture in San Francisco and beyond. Both John Winder and Geoff Gibson have worked on a variety of projects, including exterior and interior design for new construction, additions, roof decks, bathroom and kitchen remodeling, and the renovation of historical buildings. Due to their experience and reputation, Winder Gibson's clients frequently include other design professionals.
###