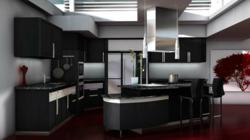 Des Moines, Iowa (Vocus/PRWEB) March 14, 2011
QA Graphics, a Midwest interactive design company, has expanded their 3D design services providing creative outsourcing solutions to meet architectural design needs.
QA Graphics' 3D design specialists can provide a variety of 3D visualization services. The company serves as a design resource for architectural firms specializing in 3D design and animation solutions, offering custom 3D design, animation, modeling and rendering services. These capabilities enhance the company's already broad portfolio of creative design solutions and interactive applications for the building industry, including 3D design and animation, building display solutions, virtual tours, web development and other interactive content.
QA Graphics can assist with creative services used for building visualization, marketing tools, and any stage of a project, whether it's for communicating design concepts to potential client(s), to aid in project design, or as solutions that can be extended to clients once a project is complete. QA Graphics provides high-end walkthroughs of interior and exterior spaces, offering visualization of every detail from the fabrics and surfaces, to the lighting and detailed measurements, to ensure realistic representation. The company's 3D design specialists can transform photos, existing graphics, schematic designs or ideas into incredible 3D graphic representations. Services can range in quality from wire frame, vector illustration, cel-shaded or photo-realistic to fit customer needs. View examples of QA Graphics' 3D design services at http://www.qagraphics.com/graphic-services/3d.
Architecture firms can look to QA Graphics as a 3D design resource for:

2D/3D design and animation
3D building modeling
Building walkthroughs
3D flythroughs
3D architectural interior rendering
3D visualization services
3D presentations and multimedia solutions
For sustainable projects, QA Graphics also provides an award-winning solution that architecture firms can extend to their clients. Their Energy Efficiency Education Dashboard® (EEED) is an interactive application that serves as a creative way to provide building occupants and the public with education about the sustainable initiatives employed at a building. The Energy Efficiency Education Dashboard also contributes towards satisfying the U.S. Green Building Council's® Innovation in Design Green Education and Innovation in Design School as a Teaching Tool credits under LEED® and a variety of points under The Green Building Initiative's™ Green Globes® green building rating and assessment system.
QA Graphics' 3D design specialists provide high quality design services and renders using the latest design software. The company has a state-of-the-art rendering farm onsite, allowing them to provide affordable and professional rendering services with quick turnaround times. To learn more about outsourcing 3D architectural design needs, contact QA Graphics at 515-965-3403.
About QA Graphics
QA Graphics is an innovative graphic development company specializing in the green building industry. The company is an industry leader in the design of award-winning energy education dashboards used to showcase organizations' building performance and sustainable initiatives. QA Graphics also provides comprehensive creative services including graphic outsourcing, 3D design/animation, drafting, web development, virtual tours, multimedia solutions and other interactive content. Visit http://www.qagraphics.com to learn more.
# # #