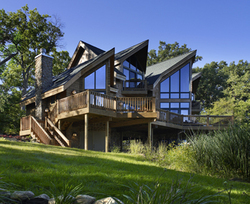 We are delighted to have our work recognized in such a broad range of residential home design categories
Ann Arbor, MI (PRWEB) September 23, 2008
Architectural Resource, LLC received honors in ten design categories at the 2008 Detroit Home Design Awards making the company one of the most decorated design firms at this year's competition.
First place awards went to the firm for a bungalow whole house remodel in the Remodel category less than 1,000 square feet category; and for an Arts and Crafts residential kitchen design in the Kitchens less than 200 square feet category.
Architectural Resource scored second place awards in six different categories as well: Additions, Vacation Homes less than 3,000 square feet, Historic Residential Renovations, Millwork Design, Custom Metal Work Design, and Traditional Interior Design.
The firm rounded out its awards with two third place recognitions--one in the Kitchens less than 200 square feet category and one in the Interior Use of Stone category. All projects are located in Michigan.
The Detroit Home Design Awards (DHDA) program is Michigan's preeminent residential design competition showcasing the region's top design talent. The awards program, now in its fourth year, is presented by Detroit Home -- a magazine devoted to discerning residential architecture and decor. Architectural Resource has received awards in each year of the DHDA competition.
The first place awarded Bungalow whole house remodel was the culmination of a multiple year, multiple phase master planned whole house remodel. The project included a complete "make-over" of the existing home. Spaces affected include the entire first floor and a good portion of the second. The project also included an addition that incorporated a built-in dining nook and daily entry/mud room. The same project also garnered awards in the Historical Renovations, Millwork Design, and Best Traditional Interior Design Category. The project was constructed by Washtenaw Woodwrights.
The Arts and Crafts residential kitchen project was designed for a vacation home residence in Gull Lake near Kalamazoo. Built by W. Pennings and Sons, the home was also recognized with a second place award in the Vacation Homes less than 3,000 square feet category. Designed in concert with the Not-So-Big House® design principles, the home demonstrated space efficient yet gracious living through intelligent design, all in a tidy 1,900 square feet package. The home serves as an exhibit of how smaller, well designed spaces, are gaining in popularity as green, sustainable design and building approaches.
The second place award in the Additions category was for a stunning hearth room space added to a contemporary lakeside residence. The new addition's thrusting gables and cathedralized pine paneled ceiling seamlessly blended with the existing home. The dramatic fireplace with an innovative assemblage of metal, cast concrete, and plaster is an artistic focal point for the space. This project was also awarded a second place award in the Custom Metal Work Design category and a third place award in the Interior use of Concrete category. The project included the collaboration of Paul Hickman of Objects and Environments and was constructed by Mark Dennis remodeling.
The third place Kitchen less than 200 sq ft project award -- for a modern kitchen remodel in a late century modern architectural jewel -- included an effective, yet challenging cantilevered projection of the remodeled kitchen floor plane extending the new space beyond the face of the existing residence. The kitchen's interior was painstakingly detailed for precise execution with very tight tolerances and incorporated an artful blending of a multiple materials. Laura Huff of Design Ink was the Kitchen design consultant and Custom Design-Build handled construction.
"We are delighted to have our work recognized in such a broad range of residential home design categories," said Michael Klement, founder of Architectural Resource, LLC.
About Architectural Resource:
Headed by Michael Klement A.I.A., N.C.A.R.B., and based in Ann Arbor, Architectural Resource is a full-service, architectural design firm specializing exclusively in distinctive design of custom homes, cottages, additions, remodels and renovations with an emphasis on green and sustainable design. http://www.architecturalresource.com.
###