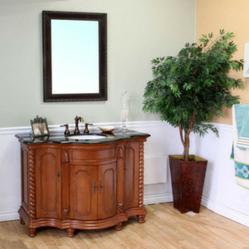 HomeThangs.com has made their goal to deliver the right product to the consumer, with that in mind, shopping and home design tips, as well as special product selections are being introduced.
(PRWEB) July 03, 2012
HomeThangs.com has made it their goal to deliver the right product to the consumer, with that in mind, shopping and home design tips, as well as special product selections are being introduced.
There are a lot of factors that go into deciding what direction to take a major remodel, especially in a bathroom. Bathrooms, along with kitchens, are the most important design spaces in the home – they're the most used, and have the most permanent fixtures. Having a very architecturally distinct home, to choose a bathroom decor and especially a bathroom vanity that matches it is incredibly important to the overall look and feel of the home. With so many bathroom vanities out there to choose from, it is not always easy to find one that fits.
Some styles are more obvious – and, therefore, easier to match – than others:
1. Ranch or cabin style homes that strongly feature natural wood both inside and out demand rustic bathroom vanities to match. Most large bathroom fixtures (i.e. bathtubs, showers, and toilets) are typically fairly decor-neutral, so distinctive bathroom vanities are especially important in setting the overall mood of the space. For example, the Burlington Vanity from Sierra Copper has a perfect rough, unfinished look to match a rustic interior, and give the bathroom a rugged feel without taking away any modern conveniences.
2. Cape cod style homes or older cottage style homes are another perfect example. As ranch and cabin homes use wood on every available inch, country cottage and seaside style homes are all about repeating patterns. If the house features white siding, shuttered windows outside, crown molding, and bead board wainscoting inside, a white bathroom vanity that features some kind of beadboarding is recommended, such as the Beverly Vanity from Avanity.
3. Cottage style homes demand a very specific sort of bathroom decor (and by extension, specific bathroom vanities). In part, that's because most cottage homes tend toward the smaller side; cottage bathrooms are nothing if not practical and space-saving. Honeycomb floor tile, subway wall tile, and a simple white vanity such as the Cottage Retreat from Sagehill Designs make the bathroom "fit" in the home.
4. Cast iron architecture - ornate wrought iron balconies, windows, and interior supports are a main facet of such home's design. The Napa Vanity is a perfect fit for a smaller, urban loft, with just enough metal detailing will make the style complete.
5. Plantation style home - something larger, such as the Morgan Vanity from Soci would be a good fit. The white finish is the perfect pair for a whitewashed exterior, and gives an authentic, antique design to the bathroom. The slightly antiqued paint, on the other hand, plays nicely with the signature decadent decay of lavish, swamp-surrounded southern mansions.
Of course not all homes have such an obvious design or theme, and coordinating requires a slightly more subtle touch. That said, the designers at HomeThangs.com suggest some subtle ways to use bathroom vanities to aesthetically link the bathroom to the rest of the home:
1. At an older home, especially one with a lot of prominent woodwork (floors, pillars, room dividers, banisters, door and window frames, etc.), a wood bathroom vanity in a finish that's as close as possible to the existing décor would work best. Bathrooms aren't a big place for wood other than vanities, so installing something like the Light Walnut Vanity from Bellaterra Home will go a long way toward helping to unify the decor.
2. Going a step further, bathroom vanities that not only match the wood tone, but also some of the woodwork elsewhere in the home would work. This is a purely visual trick, and one that can take a little effort to pull off, but it's absolutely worth it. HomeThangs' designers suggest going through the home looking for shapes – columns, stair rails, and the like – and try to match the silhouette to open shelf bathroom vanities, such as the Antique Vanity from Legion Furniture. The end result is – a subtle trick to make the whole home seem unified.
HomeThangs.com is not only a home improvement superstore, it also provides expert design tips and a comprehensive shopping guide, taking the ideas from professional interior designers, and offering tips to the consumers on how to pick the products to best suit their needs.