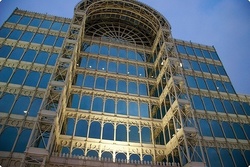 Architel is pleased to host this event by the MIT Enterprise Forum, which we hope will educate and encourage North Texas entrepreneurs to pursue their dreams
Dallas (Vocus) February 26, 2010
Architel, one of Dallas-Fort Worth's largest managed services providers and a leading incubator of area technology ventures, is teaming with the North Texas chapter of the MIT Enterprise Forum to host "Bootstrapping 2010" – an evening of practical advice about bootstrapping – from 5:30 p.m. to 8:30 p.m. tonight at Architel's Infomart headquarters.
The focus of the event is on starting and growing a business with little or no outside investment, and will feature presentations from experts including successful technology entrepreneurs, attorneys, and angel investors. Topics will include:

How to finance your business when traditional startup money is simply not available;
How to generate revenue and sell your products and services with minimal resources;
How to handle legal issues; and
How to use social media to grow your business.
Registration is $20, including dinner, with discounts available for entrepreneurs. Those interested in attending should contact Babar Bhatti at babar(at)mutualmind(dot)com.
"Architel is pleased to host this event by the MIT Enterprise Forum, which we hope will educate and encourage North Texas entrepreneurs to pursue their dreams," said Scott Ryan, president and CEO of Architel. "As with our efforts with the Entrepreneurs Foundation of North Texas and Dallas Startup Happy Hour, Architel is committed to doing well by doing good in our community."
The MIT Enterprise Forum, a non-profit, volunteer-run organization, promotes the formation and growth of innovative and technology-oriented businesses in communities worldwide. The MIT Enterprise Forum was founded in 1978 by the MIT Alumni Association, and the local chapter, the MIT Enterprise Forum of Dallas-Fort Worth, was created in 1986.
Architel provides small and midsize companies with managed IT services for a flat monthly fee, enabling clients to enjoy predictable costs and peace of mind. The experienced Architel team ensures smooth, efficient operation of hardware, software and networks at a significantly lower cost than in-house staff or break-fix support.
Founded in 2001, Architel is headquartered at the Dallas Infomart, where it maintains a state-of-the-art help desk and data center. The company also incubates promising startups and technologies, such as ShopSavvy, the groundbreaking mobile application with millions of users worldwide.
About Architel
Dallas-based Architel is an IT infrastructure outsourcing company focused on small and midsize businesses. Architel offers managed services for a flat monthly fee, providing clients a turnkey solution to their IT headaches and a compelling alternative to traditional outsourcing services. Architel is an investor in early-stage technology companies including Big in Japan, the developer of ShopSavvy. Visit http://www.architel.com for more information.
Contact:
Cathy Baradell
972.235.3439
###