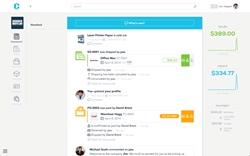 Toronto, Ontario (PRWEB) July 08, 2014
Today, Archon Systems Inc. launched a beta of Carta. Carta makes it easy for small businesses to manage orders, track inventory, and work with customers and suppliers – all in the cloud.
Carta started development back in 2010 based on the feedback and insights from their desktop inventory software, inFlow Inventory, which serves over 500 000 businesses.
"We're excited to unlock the potential the cloud has for small businesses," says Louis Leung, Co-Founder of Archon Systems Inc. "Carta is the start of something great!"
The beta runs until late 2014 at no charge. Retailers, distributors, and wholesalers are encouraged to sign up at http://www.getcarta.com.
About Carta:
Carta is an order and inventory management system for small businesses. The online software lets you easily manage orders, and control your stock. You can also easily communicate with vendors and customers directly inside the software, leaving your inbox less cluttered.
About Archon Systems Inc.:
Founded in 2005, Archon Systems builds software to help small businesses. Their flagship product, inFlow Inventory, serves over 500 000 small businesses in distribution, wholesale, retail, manufacturing, and eCommerce.