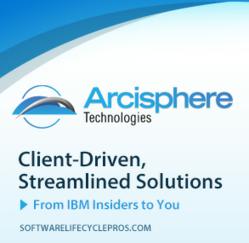 The new NYC location will enable Arcisphere to deploy on-site IBM Rational consultants and staffing services to the many corporations with offices in Manhattan and the surrounding New York metro area.
New York, NY (PRWEB) May 31, 2012
Arcisphere Technologies, the newest entrant to the IBM Rational Consulting industry in the mid-Atlantic region, is continuing their rapid expansion with the addition of a new office location in New York City. The new location will enable Arcisphere to deploy on-site consultants and staffing services to the many corporations with offices in Manhattan and the surrounding New York metro area.
After 20 years of experience in the software industry – specifically working on the IBM Rational (official site) product suite since its inception – the former IBM engineers who founded Arcisphere were determined to bridge the gap for companies who are ready to invest in IBM Rational but lack the internal expertise and practical know-how to fully maximize the potential of the Rational products. Arcisphere's consultants use their insider knowledge to guide clients towards using IBM Rational to produce better software with more efficiency and less risk.
Arcisphere provides IBM Rational support through consulting, mentoring, and training services, equipping clients with the right combination of IBM Rational products and the resources and skills needed to maximize productivity and guarantee returns at every stage of the software development process (for definitions, diagrams and information about the software development process, see this Wikipedia entry). Arcisphere also leverages industry contacts to source talented and experienced engineers for clients in need of staff augmentation.
Arcisphere Technologies is a strategic IBM partner (more info) and is recognized for helping clients to streamline the development process using a U.S.-based, local approach that enables Arcisphere to provide the personalized attention and high level of service that clients deserve. Arcisphere's former IBM engineers work on-site along the client team as mentors and project administrators, enabling the development team to be more productive and produce a winning product.
Arcisphere is continuing to expand through the mid-Atlantic region from New York to DC and has plans to open additional offices across the Eastern seaboard in the coming months. Arcisphere welcomes inquiries and is prepared to assist clients on-site, over the phone, and online with custom-tailored IBM Rational implementation plans to streamline the software development life cycle.
About Arcisphere Technologies:
Arcisphere Technologies helps clients navigate the end-to-end software development process using the IBM Rational product line. Founded by former IBM employees, Arcisphere's team has unmatched expertise in the best practice techniques and strategies for simplifying the software development process to maximize the efficiency and productivity of clients. Arcisphere Tech builds collaborative relationships with clients in order to understand their changing needs and deliver results, and offers Consulting, Training, Staffing and Staff Augmentation services to deliver business solutions that are fully customizable to both the immediate and long-term goals of each client.
Learn more about Arcisphere at SoftwareLifeCyclePros.com or by calling (888) 553-6563. For the New York City & NYC Metro area, call (646) 291-8994.