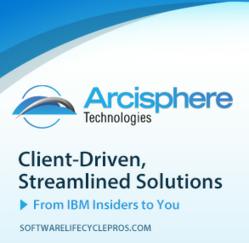 As former top-level IBM Rational software engineers with over 20 years of experience in the field, Arcisphere knows IBM Rational inside and out.
New York, NY (PRWEB) May 15, 2012
Arcisphere Technologies, a new entrant to the IBM Rational Consulting industry in the mid-Atlantic region, was founded to bridge the gap for companies who are ready to maximize the potential of IBM Rational implementation. Staffed by former IBM employees who created the IBM Rational product line from the ground up, Arcisphere leverages this insider knowledge and practical experience to help clients use IBM Rational to produce better software more efficiently and with less risk.
With 20 years of experience in the software industry, Arcisphere's consultants are skilled in application lifecycle management and recognize that no two projects are ever alike. The dynamic world of software development requires agility, planning, and communication to deliver competitive products to the marketplace in the optimal timeframe, and the IBM Rational product line was designed to help companies tame the software development life cycle into a manageable and efficient process, from feature design to build management to testing and deployment. Arcisphere provides IBM Rational consulting, training, staffing and staff augmentation services to equip clients with the right set of resources and skills for maximum productivity at every stage of the development process.
As former top-level IBM Rational software engineers with over 20 years of experience in the field, Arcisphere knows IBM Rational inside and out. Arcisphere's team has worked on IBM Rational since its inception and has cultivated a strategic relationship with IBM. Arcisphere's software development consulting services help clients to streamline the development process, enabling them to direct more resources to the most critical components of their project. With a U.S.-based and local approach, Arcisphere's former IBM engineers come directly to the client's site to mentor the client's Rational Administrators in person, drastically improving project performance.
In addition, the Arcisphere team utilizes its IBM-insider experience to design custom software configuration management training regimens for clients, equipping client teams with the knowledge and skills they need to be more productive using the IBM Rational tool suite.
Arcisphere also leverages the IBM network to make connections for clients in need of administrator staffing and staff augmentation. Arcisphere's team has insider access to the best IBM Rational administrators in the field, and knows how to analyze resumes to find the right fit for the project. As a strategic partner of IBM, Arcisphere helps clients augment their staff with talented professionals, from a single IBM Rational expert to complement an existing team to an entire fleet of engineers to build a new organization from scratch.
With representation from the New York metro area to Washington DC, Arcisphere is prepared to assist clients in the mid-Atlantic region on-site, over the phone, and online with customized action plans to help them reap the benefits of IBM Rational.
About Arcisphere Technologies
Arcisphere Technologies helps clients navigate the end-to-end software development process using the IBM Rational product line. Founded by former IBM employees, Arcisphere's team has unmatched expertise in the best practice techniques and strategies for simplifying the software development process to maximize the efficiency and productivity of clients. Arcisphere Tech builds collaborative relationships with clients in order to understand their changing needs and deliver results, and offers Consulting, Training, Staffing and Staff Augmentation services to deliver business solutions that are fully customizable to both the immediate and long-term goals of each client.
Learn more about Arcisphere at http://www.softwarelifecyclepros.com or by calling (888) 553-6563.