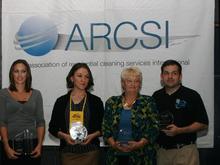 This is definitely the best economy we have seen in the last 5 years
Columbus, OH (PRWEB) June 19, 2013
ARCSI, the largest trade group representing professional house cleaning services, says that consumer demand for house cleaning is on the rise and is a leading economic indicator for a strong economic recovery. ARCSI members are seeing record growth and demand for services. Many are anticipating greatly expanding their workforce, and see a resurgence in consumer confidence.
Since 2008, many professional house cleaning services have struggled to grow. A decrease in consumer confidence led many households to decrease discretionary spending. With house cleaning services often being the first of these items to be cut from the budget. Since mid 2012 many of these same professional house cleaning services have seen a dramatic shift in this pattern, with consumer spending on the rise, led by the addition of home cleaning services.
Matthew Ricketts, an ARCSI member whose company Better Life Maids serves St. Louis, MO, has recently expanded into new markets including Birmingham, AL and Portland, OR. Founded in the summer of 2008 at the beginning of the recession, Better Life Maids has grown steadily during that time. Ricketts said that changed dramatically in recent months and that house cleaning as an economic indicator points toward a strong year for both his company, and the entire economy.
He continues, "Since September of 2012 we have been growing at nearly 20 new recurring clients per month in St. Louis, when in previous years we would grow by 50 to 60 clients per year. Not only are we growing in clients, we are growing in staff. We anticipate hiring a new employee for growth every 27 days for the rest of this year. This is definitely the best economy we have seen in the last 5 years."
Better Life Maids is not alone in showing strong growth. RJ Patel another ARCSI member whose company Prestigious House Cleaning of Kennesaw, GA (a suburb of Atlanta) is seeing a similar pattern emerge. "In the Atlanta area (market) there is a definite shift for the better in the economy. We started 2012 with 11 staff members-today, we are at 19 and looking for the right #20. The future is bright with thoughtful growth as the economy continues to improve," said Patel.
Patel goes on to state, "We are barely keeping up at this time. May of 2013 was our best month (gross sales) in 10 years. June will be better and we are looking forward to the future. We now know how to be better prepared for the demand that will continue to rise. We will add between 40 to 50 new clients in the next 18 months. The demand from our current clientele will be going up also. We will be adding 3-4 more teams, 6-8 people by the end of 2014."
Busy Bee Cleaning Service of West Chester, PA is also experiencing rapid growth as well. ARCSI member and owner of Busy Bee Cleaning Service Alonzo Adams said, "We have seen an increase in the average transaction as well as an increase in the number of transactions compared to a year ago. We had to add a new member to our sales team to help handle the call volume and we are currently booked thirty days out." The added call volume has led to a large increase in both clients, and the staff needed to provide service to these clients.
Adams continues, "My company is adding three to four new recurring clients a week. We are fully booked and had to add eight new house cleaners. In the next 12 months we will need to add six to eight employees to meet the growing demand. We are expecting 20-30% growth in the next 12 months."
These are not isolated results. Many ARCSI members are reporting high demand for their services. If the trend continues, it would seem that the economic recovery is well under way, and that demand for house cleaning services will remain a strong economic indicator of the overall growth of the economy.
About ARCSI the Association of Residential Cleaning Services International
The ARCSI is is the only non-profit trade association dedicated to advancing the home cleaning industry. Members of ARCSI come together to network and share ideas to learn how to improve and grow their own company as well as, improve over all conditions in the entire industry as a whole. Established to represent professionals in the home cleaning industry, ARCSI provide business owners in the residential cleaning industry opportunities to come together to share ideas, information, and experience. For more information, visit http://www.arcsi.org.