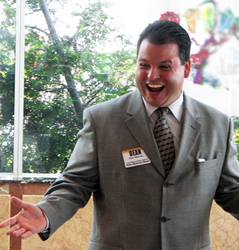 When it comes to marketing a residential cleaning company these days, playing follow the follower simply does not work
Long Island, NY (PRWEB) September 25, 2012
Dean Mercado, Co-Founder & CEO of Online Marketing Muscle is flying into the windy city of Chicago this October to educate and entertain a gathering of residential cleaning companies at their largest attended event of the year, the ARCSI Cleaning Convention.
On Thursday, October 18th at McCormick Place in Chicago, Mercado will unveil his signature speech "Finding Your Unique Marketing Recipe for Success". In this fact-filled and enlightening seminar, he will introduce the 3 core purposes for marketing and how to choose the right combination of marketing strategies and tactics that best positions small businesses for success!
"When it comes to marketing a residential cleaning company these days, playing follow the follower simply does not work", states Mercado. "What works in marketing one small business may not work well in others. For most residential cleaning companies, the budget typically does not allow for wasteful marketing that does not produce a positive return on investment."
Mercado continues, "In coaching and mentoring numerous residential cleaning companies over the past 5 or 6 years, it has become evident that many of them are confused on exactly what marketing makes the most sense for their business... and with good reason... they are being bombarded and led astray by many, as I call it, flavor-of-the-day marketing tactics. The lure of using marketing that is deemed as hot and new oftentimes distracts small business owners from what really stands a chance at helping them succeed. Determining one's unique marketing recipe for success helps the small business owner put a marketing plan in place that is both realistic and effective immediately if implemented properly."
To assist conference attendees further, Mercado returns to the stage Friday afternoon, October 19th at the Hard Rock Hotel in downtown Chicago for a gutsy performance which will include live social media and web site makeovers delivered in a hot seat fashion. "My intent is to give hot seat participants as well as those participating vicariously in the audience, real actionable improvements they can take home and implement immediately to raise their game online and grow business", Mercado states.
"I cannot say enough about the ARCSI organization as well as its many warm-hearted members," states Mercado. "Since speaking at their Executive Leadership Conference back in the Spring of 2011, they have embraced me as one of their own and for that I am grateful… and at this year's convention, I aim to prove it! Additionally, I can certainly say that ARCSI knows how to put on amazing events… and this one should prove to be one that is not to be missed!"
About ARCSI
The Association of Residential Cleaning Services, International (ARCSI) was established to assist residential cleaning service owners and professionals in starting, promoting, building and expanding their businesses.
For more information about the 2012 ARCSI Cleaning Convention, visit http://www.cleaningconvention.org/.
About Dean Mercado
Dean Mercado, CEO and Co-Founder of Online Marketing Muscle is a well-respected marketing coach, strategist, author, and speaker with expertise on helping small businesses and independent professionals leverage the power of the Internet to increase their visibility, credibility, and reach within their target market.