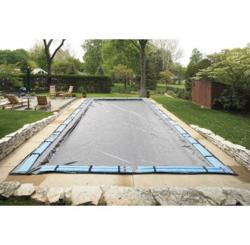 St. Paul, MN (PRWEB) July 26, 2012
PcPools, one of America's leading direct marketers of above ground pools and pool related accessories, announces that it is an authorized dealer of Arctic Armor™ in ground winter pool covers. Arctic Armor™ winter pool covers are 50% stronger than other imported winter pool covers and come with a five foot overlap to ensure the cover remains securely in place. Although all the Arctic Armor™ winter covers are rugged and long-lasting, in ground swimming pool owners can choose from covers with warranties between 8 and 20 years.
Blue Wave® Pool Products CEO Jim Coxworth had this to say about its authorized dealer program: "PcPools has been a leading retailer of Blue Wave Pool Products for over 10 years, and continues to strictly adhere to the conditions of our authorized dealer program by upholding the integrity, value, and quality customer service we demand. We encourage pool supply customers to only buy our products from authorized dealers like PcPools. PcPools' focus on customer service sets them apart from most online pool supply retailers, and makes them one of our best."
Marketing Director Steven Anderson had this to say about being named an authorized dealer: "In ground pool owners have long trusted Arctic Armor™ winter pool covers to keep their pool safe from the elements during the winter season. Customers believe in the rugged polyethylene scrim and rip proof metal grommets. We share their faith, and are pleased to be able to offer these highly rated, high quality products to our customers."
He continued: "Arctic Armor's winter covers are top quality, but we do recommend pool owners utilize available accessories such as water tubes to enhance the winter cover's functionality and durability. Reference the PcPools water tube chart if you are uncertain as to how many water tubes your pool requires."
About PcPools
PcPools is one of America's leading multi-channel direct marketers of swimming pool supplies and equipment to the residential and commercial markets in the United States. Founded in 2000 by a leading executive in the pool supplies industry, it has since been dedicated to providing residential and commercial pool owners with high quality swimming pool supplies and equipment at warehouse direct prices. PcPools' product line – all of which is sold through our catalog and internet channels – includes above ground pools, automatic pool cleaners, pool liners, pool heaters, pool chemicals, pool covers, and other pool accessories. PcPools' strong relationship with leading pool supply manufacturers and distributors creates a truly unique combination of quality product at excellent value for its customers.
About Blue Wave Pool Products
Blue Wave Pool Products is a leading distributor and manufacturer of pool products and supplies to swimming pool retailers across the United States. Blue Wave Pool Products manufacturers and/or distributes above ground pools, in ground pools, replacement pool liners, pool equipment, pool covers, pool chemicals, supplies, and backyard living products. Blue Wave Pool Products is headquartered in St. Charles, IL.
Note to Editors: If you are interested in viewing addition information about PcPools or Blue Wave pool products please visit following websites: